The new retail development at the northeast corner of 31st and Iowa streets is attracting interest from a Mexican restaurant, a steakhouse and lots of job seekers.
The development already has landed its two major tenants, Home Depot and Best Buy, but is still seeking at least two restaurants to add to the development and six to eight smaller retailers to fill two buildings that will be around the perimeter of the development.
Classic Real Estate's Christian Ablah, the lead leasing agent for the development, said he's very close to completing deals with a pair of national restaurant chains, but he declined to give the names of the businesses until leases were signed. Ablah said one was a Mexican-style restaurant and one was a steakhouse.
"I think they'll be two very exciting restaurants for Lawrence," Ablah said. "They're both national restaurants, full service, sit-down type of establishments."
The project also includes 20,800 square feet of space for small retail shops or service-oriented businesses. Ablah said he expected the space, which is split between two buildings near the entrance of the Home Depot parking lot, to house between six to eight businesses.
"We're looking at some sandwich shops and things like that," Ablah said.
Construction is under way on a new gasoline station for the area. The station will be located just north of Commerce Plaza Gas & Mini Mart, 3034 Iowa, which is owned by Roger Flory. He will operate the new gasoline station which is scheduled to open in June. The old station will be razed to make room for one of the restaurants.
Different view
Ablah said he expected the restaurants and the other retail and service businesses to open this fall. Best Buy is scheduled to open in June, and Home Depot was scheduled to open on Thursday. Ablah said the amount of interest from potential tenants for the development has been very strong. He said he thought that was an example of how national retailers are now beginning to view Lawrence differently.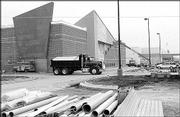 "We see Lawrence, and a lot of retailers see Lawrence, as a suburb of Kansas City anymore when it comes to retail," Ablah said. "When a national tenant wants to have a strong presence in the Kansas City market, they're looking at being in Independence, in Olathe, in Overland Park, and now they're looking at being in Lawrence."
Ablah said he didn't think the new development would hurt other stores in the area.
"We think this will just help increase the regional draw that the South Iowa Street area has," Ablah said. "With the Super Target, with Kohl's, with JC Penney, it already has a good regional draw, and this should give people another reason to come to the area."
Controversial project
The project was not without controversy, though. City officials debated for more than two years about whether Home Depot should be allowed to locate along 31st Street. Concerns centered on the street's ability to handle the added traffic and whether the development complied with the city's comprehensive plan, Horizon 2020. Some residents of the trailer court that previously occupied the site, also objected to parts of the development. The project ultimately was approved on a 3-2 vote by city commissioners.
The project, though, proved to be popular with area job seekers.
Home Depot officials received more than 1,500 applications for the store's 125 jobs. Member's of Home Depot's hiring squad, which travels around the country to help hire people for new stores, said the number of applications was the most they had ever received in the Midwest region.
"It is a very large number," said Alex Poole, operations manager for the store.
Ample applicants
In early March, the store was receiving about 100 applications per day. At times the company was so busy accepting applications that it ran out of room in its temporary hiring trailer in front of the store and was forced to conduct interviews in the parking lot.
Cheryl White, manager of the Lawrence Workforce Center, said the strong interest in the jobs showed that the area's unemployment rate, which has hovered around 4 percent, often doesn't tell the whole story about the area's job market.
"The unemployment figure doesn't count those people who are under-employed, and we may have a lot of people who fall into that category," White said.
Home Depot spokeswoman Shelley Schumaker said she expected the company's wage and benefit package also brought out a large number of people. She said the average wage at a Home Depot store was $12 an hour and some positions paid closer to $20 an hour. She also said the company offered health insurance and a stock ownership plan to both full-time and part-time employees.
Best Buy is expected to employ 150 people at its Lawrence store, company spokeswoman Mollie Juelich said. She said the company doesn't publicly release its average wage rates.
Copyright 2018 The Lawrence Journal-World. All rights reserved. This material may not be published, broadcast, rewritten or redistributed. We strive to uphold our values for every story published.