What is happening to the fine-dining restaurant scene in Lawrence?
PrairieFire: An American Bistro, 724 Mass., closed Dec. 15, 2001.
The BleuJacket, a French restaurant at 811 N.H., shut its doors Nov. 16, 2002.
Fifi's, a longtime upscale restaurant at 925 Iowa, has been closed for months with no plans to reopen.
And Teller's, a 10-year-old Italian trattoria at 746 Mass., has had to recast its menu and cut prices in order to stay alive.
Blame the aftershocks of 9-11, an economy that has gone into an extended funk or maybe a glut of fine-dining restaurants in the Lawrence marketplace.
Whatever the cause, there's no doubt that the diner's choice of decidedly upscale restaurants in the city has narrowed substantially in the last couple of years.
Steve Wilson, former owner of PrairieFire, knows firsthand the struggles of keeping a new, gourmet restaurant afloat -- no matter where you open it.
"The first two years (of operation) kills eight out of 10 independent restaurants, and for fine-dining, it's closer to 9 out of 10. Those statistics are from the National Restaurant Assn.," Wilson said.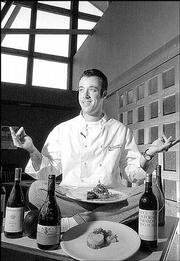 "It's pretty much a Russian roulette. You know you stand a pretty good chance of failing. We all know it when we go into it."
Wilson knew he would face a stiff test from the moment PrairieFire opened its doors.
"It's hard enough when you're a fine-dining restaurant. You've got the highest food costs and labor costs of anybody. The deck is stacked against you. When you look at what you stand to gain in fine dining, you're lucky if you get 3 percent of your total sales in profit," he said.
"But that's the food I wanted to serve. That's the restaurant I wanted to do. If we wanted to go and sell food and make a lot of money, we'd be selling $5 burger baskets. But we wanted to sell that type of (gourmet) food and were willing to accept the challenges involved in that."
Hurt by economy
The BleuJacket -- a sleek, polished French restaurant with a big-city feel -- seemed to have been the victim of bad timing and larger forces beyond its control.
The business got off to a strong start when it opened in December of 2000, and the restaurant continued in full swing for the first year.
Then things began to change.
"I can tell you that from December 2000 to December 2001, we met 98 percent of our projections. Then from January 2002 to November (of that year), we were off by as much as 30 percent," Chris Hanna, former co-owner of The BleuJacket, said.
"Part of the deal was that it was just a very crucial time (for a new restaurant) to be thriving, and some idiot decided to fly a plane into a couple of buildings and undermine what American economics were all about."
In other words, the events of the 9-11 terrorist attacks plunged a dagger into the nation's already staggering economy.
When the stock market continued taking losses, The BleuJacket began to feel the pain. Diners were trimming back their budgets for eating out, and Hanna noticed a significant decline in the number of corporations that used the restaurant for business meals.
In late summer 2002, The BleuJacket eliminated its lunch service in an effort to cut costs and survive the slowdown. But Hanna and co-owner Dan Almanza were unable to keep the business open.
The BleuJacket served its last meal Nov. 16.
If Hanna had it to do over again, would he do anything differently?
"We probably would have opened the restaurant three years earlier. But as far as how we did it, I wouldn't change a thing," Hanna said.
"My partner and I really appreciate going and having a good meal, and we wanted to be able to do that in Lawrence. But it wasn't the right time."
'It's a minefield'
One independent, fine-dining restaurant in Lawrence has managed to outlast the competition and thrive in difficult times.
Pachamama's, a 6-year-old establishment at 2161 Quail Creek Drive, has carved out a niche serving eclectic, creative gourmet fare.
The dinner-only restaurant -- Pachamama's stopped serving lunch about two years ago -- features a menu that changes every month.
Though it's been an uphill battle at times, Pachamama's is doing well these days, and owner/chef Ken Baker is optimistic.
"We've got horrible visibility -- we're located behind a strip mall. But once customers get here, we can hook 'em," he said.
Two factors have helped Pachamama's survive in a tough restaurant town during an economic downturn.
Baker owns the building and land, so he doesn't have to pay the steep rent that often cripples other restaurateurs. And he's diversified his business, going into catering in order to improve his profit margin.
But making it in the upper crust of Lawrence's fine-dining market segment hasn't been easy.
"It's a minefield. You have to make all the right decisions," Baker said.
Copyright 2018 The Lawrence Journal-World. All rights reserved. This material may not be published, broadcast, rewritten or redistributed. We strive to uphold our values for every story published.