Havana — Three men convicted of hijacking a passenger ferry last week were executed by firing squad Friday, a swift response by Fidel Castro's government to a recent string of hijackings to the United States.
The executions coincided with a crackdown and stiff prison sentences for scores of the government's most vocal critics -- both cases reflecting a new determination by Cuba to squash perceived threats to its socialist system.
A court sentenced the men Tuesday after finding them guilty of "very grave acts of terrorism," said a statement read on state television.
The three cases were appealed to both Cuba's Supreme Tribunal and the governing Council of State and all the sentences were upheld. "At dawn today the sanctions were applied," the statement said.
Cuban officials say that the four recent successful and attempted hijackings were caused in part on what it calls a lax attitude by American authorities toward hijackers who reach U.S. shores. They also say that they were part of a plot by the South Florida exile community to rupture migration accords between the two countries.
In Washington, the State Department condemned the hijackings but expressed concern that the cases may have been handled in a summary fashion. A statement said that such proceedings "are the hallmark of a totalitarian dictatorship like Cuba."
Cuba's Roman Catholic bishops issued a statement questioning both the executions and the political crackdown.
"Violence is not eliminated with more violence," it said, adding that they were also concerned about "long prison sentences imposed on political opponents."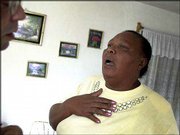 Even as the sentences were carried out, Cuba announced the arrests of four men Friday who allegedly were planning to hijack a plane on Cuba's small Isle of Youth, south of the main island.
The men were arrested late Thursday. The government said they never boarded the plane.
Despite Cuba's claims, state television here last week broadcast a message by U.S. Interests Sections Chief James Cason asking Cubans not to hijack any more planes or boats. Cason warned that hijackers who reached American shores would be arrested, tried and kicked out of the United States after serving long sentences.
The government has accused Cason and the United States of fomenting dissent among government opponents, allegations U.S. officials have denied.
In less than a month, the government arrested, tried and convicted 75 dissidents. All were sentenced this week to terms ranging from six to 28 years on charges of receiving money from and collaborating with U.S. diplomats to undermine Cuba's leadership.
Copyright 2018 The Associated Press. All rights reserved. This material may not be published, broadcast, rewritten or redistributed. We strive to uphold our values for every story published.