One business's failure could open up a hope-filled future for economic development officials in Douglas County.
The closing and expected sale of Farmland Industries' nitrogen fertilizer plant could accommodate growth of the adjacent East Hills Business Park, an industrial park virtually filled after nearly 20 years of development.
"We're pretty limited in what we have available," said Lynn Parman, vice president for economic development at the Lawrence Chamber of Commerce. "We're OK right now, but looking out two or three years, we're not."
That's why officials are busy scouring the Douglas County landscape for development opportunities and focusing intently on the Farmland site -- a more than 400-acre patch of potential along Kansas Highway 10 at the eastern edge of Lawrence.
Farmland, once the continent's largest farmer-owned cooperative, is busy shedding assets as it seeks to reorganize under protection from U.S. Bankruptcy Court.
And Lawrence and Douglas County commissioners have been keeping a keen eye on the proceedings, even hiring engineering consultants to help mull a possible purchase that one day could give the area room for industrial expansion and preservation of open space.
But even if the Farmland site falls through, elected officials know they'll have to stay involved with planning services and financial backing to relieve an industrial-sized shortage in space for buildings, parking lots and the workers who would fill them.
During the last six months of 2002, 45 business prospects contacted Parman's office for more information. Of the 43 that rejected Lawrence, nearly half said it was because the community lacked appropriate buildings or sites.
Sights on size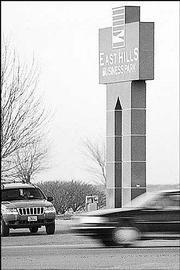 While Lawrence landed a commitment from Atlanta-based Serologicals Corp. to build a new $28 million plant at East Hills, larger prospects took a look but soon passed.
"In 2002, we worked on two very significant biopharmaceuticals prospects," Parman said in a report to county commissioners. "They were both looking for 100 acres and up."
Parman said no such site currently exists in the county, leaving the companies to look elsewhere. Slightly more than half of Parman's prospects in the second half of 2002 were seeking anywhere from 6 acres to 10 acres. Another 13 percent sought smaller lots, while another 13 percent favored 10 acres to 30 acres.
Parman said her office was tracking such statistics dutifully, in hopes that the data eventually could make a case for elected officials to help improve the market conditions.
"For those future business park locations, it's good to know what people are looking for," Parman said.
Government officials will play a key role in creation of any new business park, said Charles Jones, a county commissioner.
That's because the free market simply cannot be expected to generate the multimillion-dollar investment needed to prime a large enough site for job creation, Jones said. He describes the quandary as a market failure, but still sees it as a public responsibility that could turn into a rare opportunity.
Role playing
"Developers of industrial and business parks would probably be better off taking their money and investing it in Johnson County," Jones said. "So to get us where we need to be, it's going to require some investment here from Douglas County.
"Government will have to play a role."
Parman knows the opportunities exist, but the proof is in the payoff. In the last six months of 2002, she said, the prospects that contacted her office would have generated 6,491 jobs totaling $629.35 million in investments -- if they all had agreed to locate in Douglas County.
The chances of landing all such inquiries certainly are remote -- Parman figures there are 15,000 economic-development officials nationwide competing for 100 to 200 projects a year -- but officials would settle for a slice of the action.
And that means making room for them to arrive, build and expand.
"It's a good reason to be business-friendly," County Commissioner Jere McElhaney said.
Copyright 2018 The Lawrence Journal-World. All rights reserved. This material may not be published, broadcast, rewritten or redistributed. We strive to uphold our values for every story published.