New Orleans — Jim Boeheim has ruined it for them all.
No longer can a college basketball coach say, "We're a young team."
Because we can then say, "So."
How about Gerry McNamara, that scrappy Syracuse guard from Scranton, Pa.? All he did was nail six three-pointers in the first half of Monday night's NCAA title game.
He's a freshman.
How about Billy Edelin, that Syracuse super-sub guard who popped up off the bench to save the Orange bacon, scoring eight second-half points?
He's a freshman.
How about Carmelo Anthony, the angelic assassin, with his baby face and his 53 points in two Final Four games, his seven first-half assists Monday night, his Most Outstanding Player trophy tucked under his arm?
He's a freshman.
No, he's The freshman.
Not since "Never Nervous" Pervis Ellison led Louisville to the 1986 crown had a first-year player made such a mark on a Final Four.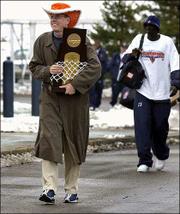 In fact, not since Villanova in 1985 has a team that was unranked in the pre-season AP poll ended up winning the national title, as surprising Syracuse did Monday, holding off Kansas University, 81-78.
A Syracuse led by a 27-year head coach (Boeheim) and first-year players.
To be sure, the Orangemen kissed lady luck along the way to that celebratory pile of humanity at center court after that desperation, at-the-buzzer three-pointer from Kansas' Kirk Hinrich went way awry.
They were afforded the good fortune of playing their East Regional semifinal and final games just down the road in Albany, N.Y.
They were 3-0 against the Big 12 Conference before the Final Four, and beat two more here -- both of similar get-it-and-go styles, making Boeheim's preparation easier.
And Kansas could not make a free throw. The Jayhawks missed 13 of 17 in the second half, 18 of 30 for the game.
"We shoot just 50 percent," said a disgusted Nick Collison, three of 10 from the line, "and we tie."
Collison is a senior. So is Hinrich, who made just six of 20 shots.
The way college hoops once worked, you would have figured it to be the other way around. A young Syracuse choking at the line. An experienced Kansas knocking down threes. Not anymore.
People point to Michigan's Fab Five that made the finals as freshmen in 1992, and were right back as sophomores in the championship game -- at the Superdome -- in '93.
The Fab Five never won it, however, coming up short both times. That first try in '92, when Chris Webber and Co. were freshmen, Michigan lost to Duke. By 20.
The world has changed since then. The best high school players bypass college for the pros. The best college players bypass most of college for the pros. If you are a collegiate player in your senior season, the feeling is you must have been bypassed by the pros.
That's not to say experience is no longer valid. Maryland won the NCAAs a year ago thanks to the senior trio of Juan Dixon, Lonny Baxter and Byron Mouton.
Yet with the way things are going in college hoops, and the way things went Monday, you have to wonder if Maryland wasn't the aberration, Syracuse the rule.
"As a coach, you want experience," said a wise man on Sunday, "but I'd rather have talent."
That man was Roy Williams.
Old football coaches used to say that you could almost count on losing one game for each freshman you start.
In college basketball, apparently, you can win a national championship.
Jim Boeheim has proven it to them all.
Copyright 2018 The Lawrence Journal-World. All rights reserved. This material may not be published, broadcast, rewritten or redistributed. We strive to uphold our values for every story published.