"The wages of sin are death, but by the time taxes are taken out, it's just sort of a tired feeling." -- Paula Poundstone
With the April 15 tax deadline looming, here's a helpful reminder of what not to do as you bundle up your returns for the federal and state revenue departments.
It comes courtesy of 78-year-old Lawrence resident Harold Longaker, who had a harrowing experience when he took a seemingly harmless detour Monday before mailing his tax returns:
"It's sort of funny now, but I sure didn't think it was very funny at the time," said Longaker, a nimble retiree who spent several minutes trapped inside a newspaper recycling bin behind Hillcrest Shopping Center at Ninth and Iowa streets, as an indirect result of complying with his civic duties.
"I was getting ready to go recycle and I had our taxes done, so I stuck them in the paper sack I had the newspapers in," Longaker said. "I left the envelopes sticking out a couple inches so I'd see them and not forget to put them in the mail."
But over the years, the act of tossing newspapers in the recycling bin had become so automatic that Longaker did, in fact, forget about the tax return. He tossed it inside the Dumpster along with the old papers.
"Right after I threw the sack in the Dumpster, I realized what I'd done," he said.
His tax returns were deep inside the bin.
Alone and not knowing what else to do, Longaker, a former lumberjack in the Pacific Northwest who is 5 foot, 9 inches tall and weighs 165 pounds, climbed in.
"It wasn't easy," he said. "I wouldn't have tried it if (the bin) was empty. It would have been too far to fall, but it was about three-fourths full, so I only dropped down a foot or so."
After retrieving his taxes, Longaker quickly realized getting out would be much trickier than getting in.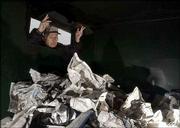 "I figured if I couldn't get out I'd stick my head out and holler for help," he said.
But there was no one around to hear him. He thought he'd probably have to wait for the next recycling truck to come collect the bin and hope the driver would hear him before hoisting the load.
"That's when it didn't seem like it was too funny," he said.
With a few precarious twists, turns and contortions, Longaker eventually freed himself by crawling back out the hole he had crawled in.
"I was in there probably 10 minutes all together," he said.
He said he won't do it again.
"I can laugh about it now -- I felt like one of those dumb criminals you read about -- but I wasn't laughing when it happened," he said.
Should you ever feel the urge to crawl inside a recycling bin to retrieve something, don't, officials advised. Instead, they said, call the police (832-7650) or the city's recycling office (832-3026) for assistance.
"If we'd known, we would have been glad to help out," said Mollie Mangerich, operations supervisor at the city's recycling office.
"He could have called us," said Lt. Dave Cobb, a spokesman for the Lawrence Police Department.
"I can't say how we would have handled the situation, but we would have made sure he got his papers back," Cobb said. "Believe me, we've had stranger calls than that."
Copyright 2018 The Lawrence Journal-World. All rights reserved. This material may not be published, broadcast, rewritten or redistributed. We strive to uphold our values for every story published.