Cleveland — Michael Jordan soaked in the applause and an ovation that came straight from hearts he had broken so many times before.
Cleveland said goodbye to Jordan Tuesday night with a surprising sendoff he won't forget.
Jordan, who tormented the Cavaliers perhaps more than any other team during his career, scored 26 points as the Washington Wizards kept their playoff hopes alive with a 100-91 win.
In the closing seconds, Cleveland fans warmly saluted Jordan, who knocked the Cavs out of the playoffs four times and cost them their only trip to the NBA Finals in 1992.
"It was a great thing that they did," said Jordan, moved by the emotional tribute. "They didn't have to, but they did and I'm very pleased with that."
Jerry Stackhouse added 18 points as the Wizards moved within 11¼2 games of idle Milwaukee for the eighth and final playoff spot in the Eastern Conference.
Zydrunas Ilgauskas had 23 points, and Ricky Davis had 18 points, 11 assists and nine rebounds for the Cavs, who dropped to an NBA-worst 15-62.
The Wizards (36-41) have five regular-season games remaining in what Jordan has promised will be his final season, and the NBA great doesn't want it to end without another playoff appearance.
One more loss, and Washington's postseason chances could be over.
Jordan wasn't about to let the Cavs have the satisfaction of being the team to end them.
"We needed this game," Jordan said. "I'm going to do everything I can to keep this team moving in the right direction."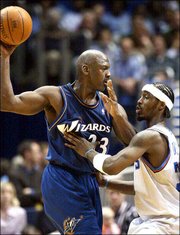 As any Cleveland fan can attest, Jordan never gave the Cavs anything other than heartache.
In 1989 with the Chicago Bulls, Jordan hit a game-winning jumper over Craig Ehlo in the final seconds of Game 5 to oust the Cavs from the opening round of the playoffs. A year later, Jordan scored a career-high 69 points against the Cavs, and just last season, he beat them with a buzzer-beater.
Jordan's last game in Cleveland brought out a sellout crowd of 20,562 and the area's top sports celebrities, including Indians pitcher C.C. Sabathia, Browns quarterback Tim Couch and high school superstar LeBron James.
James, likely to be the No. 1 pick in this year's NBA draft, had a front-row seat to watch his idol. Following the game, James and Jordan talked in the hallway outside the Wizards' locker room.
Even the Cavs were caught up in the hoopla.
"This was a great experience, to play against the greatest of all time," Davis said. "It's something I can tell my grandchildren."
76ers 91, Pistons 74
Philadelphia -- Allen Iverson, playing despite left knee bursitis, had 37 points and eight assists to lead Philadelphia. Kenny Thomas added 16 points and 15 rebounds for Philadelphia, which snapped a two-game losing skid and moved within two games of Atlantic Division-leading New Jersey, the No. 1 seed in the Eastern Conference.
Heat 89, Raptors 83
Miami -- Brian Grant scored 16 points and added 10 rebounds, and Miami held Toronto scoreless for the final 2:54. The game was tied at 83 with just under three minutes left, but neither team scored again until Anthony Carter's driving layup gave the Heat a two-point lead with 33 seconds left.
Knicks 99, Hawks 95
New York -- Allan Houston scored 29 points as the Knicks kept their slim playoff hopes alive. The Knicks led by as many as 16 points, but had to hold off Atlanta's late charge to stay in the playoff hunt. New York must win its next four games and Milwaukee must lose its final five for the Knicks to qualify.
Grizzlies 111, Clippers 108
Memphis, Tenn. -- Pau Gasol scored 25 points, including two free throws with 11 seconds left, to lead Memphis. The Clippers' Eric Piatkowski got off the final shot of the game with 2 seconds to go, but it missed, and the ball wedged between the basket and the backboard with no time left.
Bulls 115, Pacers 103
Chicago -- Jamal Crawford scored 14 of his career-high 33 points in the last four minutes of the fourth quarter as Chicago stunned Indiana. The victory cost the Pacers a chance to pull within a half-game of first-place Detroit in the Central Division.
Trail Blazers 81, Rockets 66
Houston -- Damon Stoudamire scored 21 points for Portland, and Houston tied a franchise-low by shooting just 29.5 percent. The point total was a season-low for Houston, which had an awful shooting performance from the field in the third quarter. The Rockets were just 3-for-24 in the period.
Suns 98, Nuggets 78
Denver -- Shawn Marion had 27 points and 10 rebounds as Phoenix increased its lead in the race for the final playoff spot in the Western Conference. Reserve Joe Johnson 23 points, and the Suns (41-36) now lead by 11¼2 games over the Houston Rockets (40-38) in the playoff chase. The Rockets lost 81-66 to Portland.
Kings 107, SuperSonics 85
Sacramento, Calif. -- Chris Webber had 20 points and seven assists, and Peja Stojakovic scored 18 points as Sacramento stayed in the hunt for the Western Conference's top seed. Mike Bibby scored 15 points as the Kings won their fifth straight and improved to an NBA-best 33-6 at home. Sacramento clinched its second straight Pacific Division title last week.
Warriors 128, Jazz 102
Oakland, Calif. -- Gilbert Arenas scored 34 points, making a career-high six three-pointers as Golden State defeated Utah Jazz. The Warriors are still 31¼2 games behind the Phoenix Suns for the eighth and final playoff spot in the Western Conference with four games to play. Phoenix beat the Nuggets 98-78 in Denver.
Lakers 108, Mavericks 99
Los Angeles -- Even with Shaquille O'Neal and Kobe Bryant struggling to put points on the board, Dallas still lost to the Lakers for the 25th consecutive time in Los Angeles.
Copyright 2018 The Associated Press. All rights reserved. This material may not be published, broadcast, rewritten or redistributed. We strive to uphold our values for every story published.