Hillsborough, Northern Ireland — Saddam Hussein is losing his grip on power "finger by finger," President Bush said Tuesday as he sought with ally Tony Blair to ease concerns that their conquering alliance will dominate postwar life in oil-rich Iraq.
"I hear a lot of talk here about how we're going to impose this leader or that leader. Forget it," Bush said at a news conference with the British prime minister outside Belfast. "Iraqis are plenty capable of running Iraq, and that is precisely what is going to happen."
Blair said the U.S.-British role was merely to help in the transition from years of dictatorship to self-rule.
"This new Iraq that will emerge is not to be run either by us or, indeed, by the U.N. That is a false choice," Blair said. "It will run by the Iraqi people."
The two leaders said they would cede power in the country as soon as possible, involve Iraqi citizens from the outset in the creation of a transitional government and give a "vital role" to the United Nations in reconstruction.
But the leaders -- meeting for the third time in three weeks -- offered few details about the exact U.N. role or the makeup of the interim governing authority.
Bush traveled to Northern Ireland at Blair's behest to embrace the prime minister's peace blueprint, due out later this week. It was a political payback; Blair backed the president's Iraqi policies despite fierce opposition at home.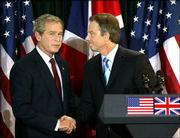 Blair has been pushing Bush to give the United Nations significant authority in postwar Iraq, partly to ease criticism from allies who fear the two leaders will rule Iraq alone.
Pressed to define the U.N.'s role, Bush said it could provide humanitarian assistance, raise money and make suggestions about the makeup of the interim authority. It was nothing near the broad mandate some allies have sought.
In their joint statement, Bush and Blair said an interim authority will be formed by Iraqi people working with the coalition and the United Nations.
"As the coalition forces advance, civilian Iraqi leaders will emerge who can be part of such an interim authority," the statement read.
The White House has said that military leaders would control Iraq in the first postwar stage, while security is still tenuous. The interim authority will slowly evolve after taking root early, perhaps even before Baghdad falls completely to coalition forces.
It will take months, likely years, before Iraq is self-governing, U.S. officials said.
Copyright 2018 The Associated Press. All rights reserved. This material may not be published, broadcast, rewritten or redistributed. We strive to uphold our values for every story published.