New York — The crowd roared as Hideki Matsui rounded the bases after hitting his first major-league home run. Just one game into his Yankee Stadium career, he made team history.
Matsui became the first Yankee to hit a grand slam in his first game at baseball's most storied stadium, leading New York to a 7-3 victory Tuesday over the Minnesota Twins.
"I never dreamed of it," Matsui said. "Certainly I feel a little relief."
Andy Pettitte improved to 3-0 in home openers and Robin Ventura homered as the Yankees won on a chilly 35-degree day. The opener was snowed out Monday but the grounds crew worked all night to get the field in shape.
Matsui made it worthwhile, with a dazzling play in the field and his home run.
"That was a very special moment," teammate Bernie Williams said. "I'm sure a lot of people in Japan were jumping up and down. They had to enjoy it."
After Williams was intentionally walked to load the bases with one out in the fifth, Matsui worked the count full against Joe Mays (1-1) as fans chanted "Mat-su-i! Mat-su-i!"
Matsui then hit a drive into the right-field bleachers, drawing a thunderous ovation from the crowd of 33,109, which included his parents and brother.
After Jason Giambi took weeks to win over the Yankee Stadium crowd last season, Matsui did it in one game.
"Right now, I can't really sense that," Matsui said through an interpreter. "Maybe later in the season I can look back and say that was the moment, when I hit the home run, that I was a Yankee."
One fan held a sign reading "Grand Matsui" as he broke into a smile when he reached home. With the crowd still cheering, manager Joe Torre told him to go out for a curtain call.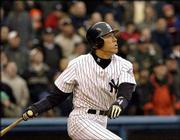 "You knew the fans wanted it," Torre said. "He must have done that before. He didn't need much coaxing."
Matsui, who signed a $21 million, three-year contract in the offseason, was 8-for-28 in his first six games on the road.
He waited until he came to New York, until his 34th plate appearance, to show the power that earned him the nickname Godzilla in Japan. Matsui was a three-time MVP for the Tokyo Yomiuri Giants in the Central League, hitting 332 homers in 10 seasons.
"I knew Hideki would be the real deal," Giambi said. "I saw him play in Japan four or five years ago. He's a great player. As long as he doesn't put too much pressure on himself to hit home runs, he'll do well. He's a great hitter, not just a great power hitter."
Matsui has already become a fan favorite. He got a loud cheer in pregame introductions and earned a standing ovation after making a great play in the field to save a run.
With runners on first and second in the fourth inning, Torii Hunter hit a line drive in the gap in left-center. Matsui came over from left field and reached high above his head to cut off the ball and allow only one run to score.
"He threw the glove out there and there was the ball," Williams said. "He did it on both sides of the ball."
Athletics 2, Rangers 1
Arlington, Texas -- Barry Zito struck out seven and allowed just one run over seven innings for his 10th straight victory, leading Oakland past Texas. Zito (2-0), last year's AL Cy Young Award winner, became just the fifth Oakland pitcher with a 10-game winning streak, the first since Bob Welch in 1990.
The left-hander has made 12 regular-season starts since losing at Boston last Aug. 8, and also beat Minnesota in the AL playoffs. Zito, 8-0 in 12 starts against the Rangers, gave up four hits and walked four. He has allowed two runs over 13 innings this season, a 1.38 ERA.
Devil Rays 8, Orioles 7 (10)
St. Petersburg, Fla. -- Travis Lee singled to cap a two-run rally in the 10th inning, and Tampa Bay overcame a six-run deficit to beat Baltimore. Baltimore wasted a 6-0 lead, then went back ahead in the 10th when Geronimo Gil homered off Lance Carter (2-0).
The announced crowd of 9,723 was Tampa Bay's smallest since 2001.
Deivi Cruz drove in three runs with a double during the Orioles' five-run first.
Blue Jays 8, Red Sox 4
Toronto -- Carlos Delgado homered and had four RBIs as Toronto won its fourth straight game. Delgado hit a two-run single off Derek Lowe (1-1) in the third inning and a two-run homer off Alan Embree in the seventh, giving Toronto a 7-4 lead.
Delgado went 6-for-13 with six RBIs in Toronto's three-game sweep over Minnesota last weekend. He was booed after he went 0-for-4 with three strikeouts against New York last Tuesday.
Boston's Manny Ramirez extended his hitting streak to a career-high 21 games with a double in the fourth. The Red Sox twice wasted two-run leads against the Blue Jays, who were swept by the New York Yankees in a three-game series last week.
Mariners 5, Angels 0
Seattle -- Jamie Moyer allowed four hits in seven innings as Seattle beat Anaheim to give manager Bob Melvin a victory in his first home game. John Olerud went 2-for-3 with two RBIs and Mark McLemore, substituting at designated hitter while Edgar Martinez recovers from a strained left hamstring, added two hits for the Mariners.
The 40-year-old Moyer (1-1) was relaxed and looked like a kid who was just happy to be at the ballpark, sprinting to the mound before each inning. He struck out seven, walked one and hit one batter.
White Sox 5, Indians 3 (10)
Cleveland -- Jose Valentin hit an RBI single and Frank Thomas added a sacrifice fly in the 10th inning as the White Sox won the Indians' chilly home opener. The 10th home opener in Jacobs Field history was rescheduled from Monday because of rain and cold weather, and Tuesday's conditions were better suited for a Bears-Browns matchup than baseball.
Fog shrouded the ballpark and it was 34 degrees when Indians starter Ricardo Rodriguez threw out the first pitch.
Copyright 2018 The Associated Press. All rights reserved. This material may not be published, broadcast, rewritten or redistributed. We strive to uphold our values for every story published.