A new $25 participation fee didn't keep 16-year-old Caleb Tegtmeier from joining the Emporia High School basketball team.
But plenty of Caleb's friends at the east-central Kansas school weren't happy about fees the district added this school year as it tried to make about $420,000 in budget cuts.
"It was the fact that they had to pay to play," Tegtmeier, a junior forward, said. "They felt the school and the community should support it enough that they didn't have to."
It turns out Tegtmeier and his friends don't have it so bad. School districts across the country are charging students much higher fees -- sometimes several hundred dollars -- to participate in extracurricular activities as districts struggle to balance tight budgets.
The efforts, commonly called pay-to-play, are coming under fire from teacher unions that argue the fees discriminate against low-income families and put too much of a burden on parents. The fees are prohibited in several states, including California, Georgia, South Dakota, West Virginia and New York, said Bruce Howard, a spokesman for the National Federation of State High School Assns. in Indianapolis.
"High school is a time for young people to explore," said Daniel Kaufman, a National Education Assn. spokesman in Washington. "It's a shame anyone with a lack of money would be unable to participate in something they want to do."
Caleb's mother, Renae Tegtmeier, said she understood the the fees but also worried the expense would keep students from poor families from participating.
"Many times those are the kids that need to be involved," said Renae Tegtmeier, who also is a secretary at Emporia High School. "This may just be one more way of excluding them."
Howard said the fees became more popular as the economy worsened.
"Often as funds are cut in a school district, they look to athletics first, believing extracurricular activities are not a necessity," Howard said. "We believe differently ... that the kinds of things kids learn from being involved in athletics and activity programs are in many cases things that aren't often or easily learned in a classroom."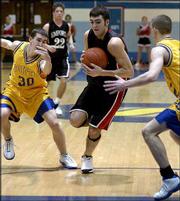 In the Mounds View School District near downtown Minneapolis, Minn., the fees almost doubled this school year as the district struggled to cut about $2 million from its budget.
Students now pay $265 to play football, $355 for hockey and $215 for cross county, said Bob Madison, activities director at Mounds View High School.
The fees are even higher at the Ashburnham-Westminster regional school district in Massachusetts, where high school students this school year were charged $850 to play varsity football and ice hockey. Middle school students paid $354 to play soccer and $237 for field hockey.
The number of Kansas districts charging the participation fees increased this year from 21 to 50, according to a survey by the Kansas Association of School Boards.
In Texas, forced to cut $10 million from its budget because of the state funding law, the affluent Round Rock independent school district, in the Austin area, began charging a blanket $50 fee this school year for high school students to participate in extracurricular activities. There's a $100 per family maximum.
District spokeswoman Cathy Brandewie said the school board was considering doubling the pay-to-play fees next school year. She said the fees still would be less than those charged in several neighboring districts.
"It (stinks) ... but you've got to pay your bills," Brandewie said.
Copyright 2018 The Associated Press. All rights reserved. This material may not be published, broadcast, rewritten or redistributed. We strive to uphold our values for every story published.