Boston — Chris Webber knew he wanted the ball with the game on the line. Taking a three-pointer wasn't in his plans.
Webber made the game-winning basket with 4.6 seconds left -- just his fifth three-pointer this season -- to atone for a pair of missed free throws seconds earlier and lead Sacramento to a 93-92 victory Friday night over Boston.
"I don't know if that's ever happened," Webber said when asked about the last time he made a three to win a game. "But I knew I wanted to take it. Because I missed the free throws, I had to take the three."
The Kings led by 19 in the third quarter, but Boston mounted a 15-2 run and took the lead in the final minute thanks to 18 fourth-quarter points from Paul Pierce, a former Kansas University player. He scored 40 in all, but missed a well-defended pull-up jumper at the buzzer that would have won it.
Webber scored 11 of his 27 points in the fourth quarter and added 11 rebounds. But he blew a chance to put the Kings ahead with 14.4 seconds left when, trailing 91-90, he missed two from the foul line.
Pacers 98, Pistons 92
Auburn Hills, Mich. -- Jermaine O'Neal had 29 points and 13 rebounds and Ron Artest scored 20 to lead a second-half comeback as Indiana beat Detroit. Indiana has won four of its last five games after losing 15 of 19.
Rockets 88, 76ers 79
Philadelphia -- Yao Ming had 20 points and 13 rebounds, and Houston capitalized on an injury to Keith Van Horn and a poor game by Allen Iverson to defeat Philadelphia. Iverson missed 19 of his 23 shots, including his final 16, and finished with just eight points -- all in the first quarter. He wasn't fouled and missed his only free throw. The Sixers lost Van Horn to a sprained left foot in the second quarter.
Bucks 95, Cavaliers 93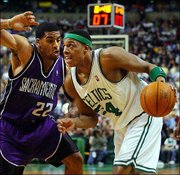 Milwaukee -- Michael Redd scored 22 points and combined with Toni Kukoc to dominate the second half as Milwaukee moved closer to a playoff berth by beating Cleveland.
Knicks 94, Jazz 92, OT
Salt Lake City -- Allan Houston made a 15-foot jump shot with 4.4 seconds left in overtime as New York kept Utah from clinching a playoff berth. Houston finished with 27 points and Kurt Thomas added 20 points and blocked John Stockton's tying attempt at the end of overtime. Utah's Greg Ostertag pulled down 11 rebounds.
Lakers 102, Grizzlies 101
Memphis, Tenn. -- Kobe Bryant hit a 21-footer as time expired, completing the Lakers' comeback from a 23-point fourth-quarter deficit. Bryant's basket from the top of the key came off Robert Horry's inbounds pass with 3.3 seconds remaining.
Blazers 122, Warriors 100
Oakland, Calif. -- Rasheed Wallace scored 18 of his 28 points in a brilliant third quarter as Portland held onto fourth place in the Western Conference. Derek Anderson had season-highs of 31 points and 14 rebounds as the Blazers won for the third time in four games and completed a regular-season sweep of Golden State.
Sonics 101, Clippers 93
Seattle -- Predrag Drobnjak scored a career-high 26 points in leading Seattle past Los Angeles. Seattle closed within 21¼2 games of idle Phoenix for the eighth spot in the Western Conference.
Spurs 124, Raptors 98
Toronto -- Lenny Wilkens set the NBA record for most career coaching losses, dropping his 1,107th game as Malik Rose scored 23 points to lead San Antonio. Wilkens, already the winningest coach in league history with 1,292 victories, surpassed Bill Fitch's record with one of the Raptors' most lopsided losses of the season.
Nets 99, Heat 83
East Rutherford, N.J. -- Jason Kidd scored 13 of his 30 points in the third quarter to hold off a Miami rally. Coupled with Philadelphia's loss to Houston, the first-place Nets opened a 11¼2-game lead over the 76ers in the Atlantic Division. New Jersey has six games left in the regular season, one less than Philadelphia.
Copyright 2018 The Associated Press. All rights reserved. This material may not be published, broadcast, rewritten or redistributed. We strive to uphold our values for every story published.