Minneapolis — Tanyon Sturtze is off to a strong start in Toronto, and he hopes that helps him forget about last season with Tampa Bay.
Sturtze was impressive in his first outing of the season, and Vernon Wells homered twice and drove in four runs as the Blue Jays spoiled Minnesota's home opener Friday night with a 7-2 victory.
Sturtze went 4-18 with a 5.18 ERA last year with the Devil Rays, leading the majors in losses.
"I don't think last year will ever be gone," he said, "but it's refreshing to get the 'W.' I said as soon as I put this uniform on, it was a fresh start for me."
Frank Catalanotto and Josh Phelps also homered as the Blue Jays bounced back from a rough start. They were outscored 27-12 and outhomered 7-1 by the New York Yankees in a three-game sweep at SkyDome.
"It gets everybody a little more relaxed," Wells said. "It's good to come into their place and do to them what the Yankees did to us."
Doug Mientkiewicz homered and doubled for the Twins, who lost their first game. The AL Central champions managed just five hits before a sellout crowd of 48,617.
"We were chasing pitches," manager Ron Gardenhire said.
After Brad Radke, Joe Mays and Kyle Lohse gave up a total of two runs in 192¼3 innings during Minnesota's sweep at Detroit earlier this week, Rick Reed couldn't match their success in his first start.
He gave up four runs, six hits, a walk and three homers in six innings.
"I don't think anyone expected us to go undefeated this year," Reed deadpanned.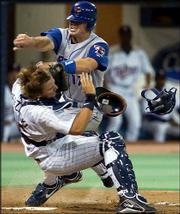 Sturtze's first victory last year didn't come until June 26, against Toronto. He gave up four hits, two runs (one earned), two walks and a homer in 62¼3 innings. Thirteen of his 20 outs were groundballs.
"We think he's got a quality arm," Toronto manager Carlos Tosca said. "Last year was not an indicator of the type of pitcher he is."
White Sox 5, Tigers 2
Chicago -- Esteban Loaiza pitched into the seventh inning and Joe Crede hit a two-run homer for the White Sox.
After losing their first three games in Kansas City, the White Sox waited out a two-hour rain delay to get their first victory, sending the winless Tigers to their fourth straight loss under new manager Alan Trammell.
Loaiza (1-0) allowed three hits and two runs in 62¼3 innings. Billy Koch struck out the side in the ninth for his first save.
Detroit starter and Wellington native Nate Cornejo (0-1) lasted only 11¼3 innings.
Mariners 6, Rangers 4
Arlington, Texas -- Ruben Sierra and Hank Blalock hit two-run homers in Texas' home opener but the bullpen blew a 4-3 lead in the seventh inning.
Ben Davis, filling in for injured catcher Dan Wilson, hit a two-run double in the seventh to put the Mariners ahead 5-4 and cap a two-out rally against Francisco Cordero (0-1).
Ryan Franklin (1-0) pitched six-plus innings in his first start.
Red Sox 8, Orioles 7
Baltimore -- Nomar Garciaparra threw out Deivi Cruz at the plate for the final out, and Boston hung on despite nearly blowing a seven-run lead. Jason Varitek and Todd Walker homered, and Kevin Millar drove in two runs in a five-run third inning against Sidney Ponson (0-1) as the Red Sox built an 8-1 lead. Boston starter John Burkett (1-0) allowed seven hits over five innings.
Yankees 12, Devil Rays 2
St. Petersburg, Fla. -- David Wells (1-0) pitched eight impressive innings and New York hit five homers in its fourth straight win.
Robin Ventura, Bernie Williams, Jorge Posada, Alfonso Soriano and Jason Giambi all homered for the Yankees, who are 4-0 for the first time since 1992 and have won the first four games of the season on the road for the first time since 1928.
Steve Parris (0-1) took the loss.
Athletics 7, Angels 3
Oakland, Calif. -- Erubiel Durazo homered and drove in four runs, and Ted Lilly (1-0) pitched into the eighth inning as Oakland beat Anaheim.
Durazo homered to right in the fifth, chasing Anaheim starter Kevin Appier (0-1), a former Kansas City Royal.
Copyright 2018 The Associated Press. All rights reserved. This material may not be published, broadcast, rewritten or redistributed. We strive to uphold our values for every story published.