Wellsville — The war with Iraq came home Wednesday for family and friends of a Wellsville soldier killed in action when a rocket-propelled grenade hit his vehicle.
Army Sgt. Jacob Butler, 24, was based at Fort Riley; he was single and had no children. A cavalry scout with the 3rd Brigade of the Army's 1st Armored Division, Butler's duties included taking point and performing reconnaissance.
Joe Butler, Jacob's twin brother, said his family was notified by the military at 11:45 p.m. Tuesday of what may be the first Kansan killed in action in Iraq.
"I just know for a fact that he died fighting for our freedom and doing something that he loves to do," Joe Butler said. "That's really all I can tell you."
As the news sped through this town of 1,600 people about 24 miles southeast of Lawrence, the home of Butler's parents, Cindy and James, became a gathering place for neighbors and relatives.
Neighbor Larry Averill, who lives about a quarter-mile from the Butler family, said the news suddenly changed his perception of the war, which had seemed distant just a day ago.
"I thought the war has come home -- next door," Averill said. "You hear about it on TV all the time. You don't expect it to be your kid or your neighbor's kid, but it was."
Joe Butler said his twin brother joined the Army in 1998. He was stationed at Fort Hood, Texas, and later transferred to Fort Riley.
A former principal at Wellsville High School said Butler also had an older brother, Justin, and a younger brother, James.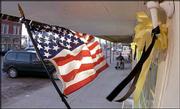 About 15 vehicles were parked in the driveway next to Butler's parents home Wednesday afternoon.
Family and friends were gathering on a large porch behind the house _ a gray frame structure with red ribbon tied around the posts that run from the overhang to the porch _ talking among themselves and hugging.
Speaking on behalf of the family, Staff Sgt. Sheldrick McNeal of Fort Leavenworth said, "The family doesn't want to talk right now and they don't have a statement."
Debbie Nolke, who owns Nolke's grocery store with her husband, said Butler worked there for about four years while he was in high school. Butler started as a stock boy and eventually was locking up the store at night. Nolke said Butler was responsible and "a real hard worker."
She said she asked Butler's family about him each time they were in the store, but she heard about his death from a customer.
"Yesterday, they said he was guarding prisoners in Kuwait and today we heard this," Nolke said.
Librarian Becky Dodd said Butler used to carry her groceries out of the store.
"He wouldn't take a tip for taking out my groceries," Dodd said. "I tried, I remember that."
Randall Renoud, who was assistant principal when Butler graduated from Wellsville High School in 1996, said Butler was "an All-American kid who gave his all for America and I don't know that you can ask for any more than that."
Renoud described Wellsville as a "very patriotic" town and said Butler's death had made residents realize that common Americans were on the front lines fighting for the country.
Signs of Butler's death were already evident across the town Wednesday night.
A red floral cross was hanging in the window of American Legion Hall Post 194 with Jake Butler in gold writing on a black ribbon. Above it, a sign reading "In Loving Memory" was taped to the window. Four yellow ribbons adorn the front of the post and four yellow and black ribbons hang in front of the Day's Past antique shop across the street.
Shop owner Lynn Whitaker said she added black ribbons after she heard about Butler's death. Whitaker said she was at the post office when she heard the news.
"We just naturally started crying," she said. "It hit home."
At the Wellsville Public Library, names of 50 military personnel _ some active and some reserves _ were posted in the window. Butler's is marked with a yellow paper star, a black strip and an American flag.
Kansas Gov. Kathleen Sebelius issued a statement Wednesday afternoon offering her condolences.
"My deepest sympathy goes out to the family of Sgt. Jacob Butler, who was killed while courageously serving his country," Sebelius said. "I want to encourage the Wellsville community to support Sgt. Butler's family through this terribly heart-wrenching time."
Copyright 2017 The Associated Press. All rights reserved. This material may not be published, broadcast, rewritten or redistributed. We strive to uphold our values for every story published.