It's no secret that any good high school softball team has good pitching.
Maybe that's why Lawrence High coach Reenie Stogsdill is a little nervous about the Lions' opener today at Shawnee Mission South.
She's not too comfortable about the whole season, for that matter.
LHS, which ended last season with a 2-1 loss to Manhattan in the Class 6A regional final, lost four seniors from last year's 10-12 team, three of whom -- Ashley Burnett, Micaela Hill and Larissa Johnson -- were pitchers.
That leaves the pitching responsibilities to a couple of underclassmen -- sophomore Whitney Juneau and junior Jillian Hill.
"I think the two we have coming up can do a great job," Stogsdill said. "But pitching is a big part of fast-pitch softball."
She pauses for impact, then adds with a smile, "That said, I'm excited to have Whitney Juneau for the next three years."
Juneau will get the start in today's doubleheader, which starts at 4:15 p.m. She likely will be the staff ace, but the season won't rest on her shoulders.
Most of the LHS lineup saw extensive playing time last year, including a reliable infield and one of the fastest outfields Stogsdill ever has had.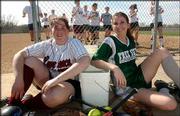 "We've got a pretty good defense behind her," Stogsdill said. "I think we're pretty strong in the outfield. We've got some speed."
Junior Jenny Narcomey will start at catcher; senior Courtney Taulbert is at first; second base is junior Teal Meyer; and junior Danielle Huff occupies third. Junior Jenni Morrell and freshman Drew Huff probably will split time at shortstop, while Huff could play in the outfield.
Sophomore Shannon Worley, junior Lacey Burnett and senior Audrey Corkhill will start in the outfield against the Raiders.
Shile the defense and pitching is set, the lineup is far from it.
"The key is going to be pitching, but we're going to have to put some runs on the board," Stogsdill said. "Right now, I could put them all in a hat and draw them out, I'm that unsettled on a lineup."
She said the lineup likely would change from game to game for the first few weeks, but could solidify after a few weeks. Until then, Stogsdill said she hoped the Lions' experience would ease Juneau through the early games.
"We've got a group of juniors right now that have played since their freshman year," she said. "Hopefully, that will help us."
Free State
Firebirds coach Pam Pine has a young team, but she thinks that youth might be misconstrued as inexperience.
Most of Free State's roster plays summer-league softball. Three of the four infielders play on the same team, and the outfielder play on another.
So despite having five juniors, six sophomores, two freshmen and only one senior, Pine can't help but be optimistic.
"We're young on paper, but at the same time, I think we're a pretty strong softball team," she said.
The Firebirds are coming off their best season in school history, winning five of their final eight games to finish 7-15. They lost three starters, but, again, Pine's OK with that.
One of the few concerns she has is the health of sophomore pitcher Ashley Wagner.
Wagner will be the Firebirds' top pitcher, but might come off the mound early in the season if she gets hit.
"Only if she's struggling a bit," Pine said. "She had a broken ankle in basketball and was just released last week. I don't want to go out too hard on it."
And even if Wagner doesn't pitch all the time, she'll be in the lineup.
"Ashley's gonna play somewhere when she's not pitching," Pine said.
The infield lineup -- sophomore Dacia Sprow catching, senior Meika Potter at first, freshman second baseman Emily Leiker, junior Lauren Abney at third and sophomore shortstop Jamie Stanclift -- probably won't shift much. The outfield -- sophomore left fielder Chloe Hall, junior center fielder Lacey Baxter and junior right fielder Nellie Ryan -- is pretty much set, too.
The Firebirds don't open their season until Tuesday at Shawnee Mission West, but then play four games a week the rest of the month. It's a schedule that will force Pine to make sure her squad is prepared for the season, because there won't be much practice time once the games start.
"We go boom, boom, boom for a few weeks," she said. "After the end of April, ask me how we look."
Copyright 2018 The Lawrence Journal-World. All rights reserved. This material may not be published, broadcast, rewritten or redistributed. We strive to uphold our values for every story published.