A drug long used in Germany slows down memory loss and physical decline in advanced Alzheimer's patients, according to a study of what could be the first effective treatment for late stages of the mind-robbing ailment.
There is no cure or known prevention for Alzheimer's, which affects about 4 million Americans, and the only medications are approved for earlier stages of the disease.
But a six-month test of the drug memantine in patients with moderate-to-severe Alzheimer's showed it slowed deterioration from the disease, researchers report in today's New England Journal of Medicine.
"It's a breath of fresh air for caregivers and for patients," said Dr. Barry Reisberg of New York University School of Medicine, who led the study.
A second study of memantine used with one of the current Alzheimer's drugs suggests the combination actually improves memory and thinking skills in advanced patients. That study is being presented today at the American Academy of Neurology's annual meeting.
Memantine is not yet available in the United States, where government review is under way. It was approved for advanced Alzheimer's last year in Europe, where it has been available in Germany for two decades to treat dementia. Alzheimer's is a common form of dementia.
Memantine works differently than approved Alzheimer's drugs by blocking excess amounts of a brain chemical, glutamate, which can lead to nerve cell damage. The most commonly used Alzheimer's drugs -- Aricept, Exelon and Reminyl -- prevent the breakdown of another brain chemical.
Doctors usually keep Alzheimer's patients on those drugs as they move into later stages of the disease because they are thought to do some good, said Bill Thies, medical-science director of the Alzheimer's Assn.
Memantine would give them a welcome option, he said.
"It does open the possibility that you can use the two together in a way that actually adds up to even greater benefit," Thies said.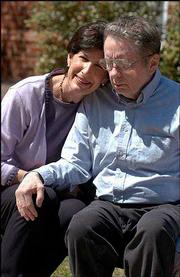 Copyright 2018 The Associated Press. All rights reserved. This material may not be published, broadcast, rewritten or redistributed. We strive to uphold our values for every story published.