Trace the histories of American Indians and Australia's aboriginal people and the parallels are similar, students and faculty at Haskell Indian Nations University learned Wednesday.
John Hunter, a member of the aboriginal Gamilaraay Tribe, discussed some of those similarities during a daylong session and tour at Haskell.
"Us talking together and sharing knowledge, we strengthen each other to try and prepare ourselves to make a better future for our children," Hunter said.
Hunter was accompanied by Chris Jones, an American who for the past 14 years has worked in Australia as a faculty member with the Warawara Department of Indigenous Studies at Macquarie University in Sidney.
Wednesday's visit was arranged by Vinita Chenault and Dan Wildcat, Haskell instructors in American Indian studies and social sciences, and Kansas University's Center for Indigenous Studies. Jones and Hunter were on their way to a conference in St. Louis about protecting indigenous knowledge.
"It was an opportunity to do some cross-cultural sharing about the experiences of indigenous and aboriginal people throughout the globe," Chenault said of Wednesday's sessions. "We have the same type of challenges and experiences."
The histories of both groups of people are similar with respect to health issues and government policies, Chenault said. The governments of Australia and the United States have failed to apologize for the treatment they administered to the two groups throughout history.
"It's amazing how parallel the tracks are," Chenault said.
Jones' father, Bruce Jones, was a psychologist at Haskell about 12 years ago.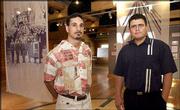 Copyright 2018 The Lawrence Journal-World. All rights reserved. This material may not be published, broadcast, rewritten or redistributed. We strive to uphold our values for every story published.