Finally, Kansas University's baseball team has a Big 12 Conference victory.
KU defeated Oklahoma State 10-8 Monday at Hoglund Ballpark, salvaging the final game of an offensive-happy three-game series. OSU won the first two by 8-7 and 16-6 counts.
It was the first conference victory of the season for the Jayhawks after a promising non-conference start quickly transformed into a Big 12 stumble.
"I feel like I got the monkey off our back," coach Ritch Price said. "When you're 0-5 and staring at the bottom of the standings, it's not a good feeling."
The Jayhawks (22-11 overall, 1-5 Big 12) pounded 13 hits, scored runs in every inning but two and benefited from a gutsy effort from pitcher Ryan Knippschild, who threw 146 pitches in 81¼3 innings for the victory.
Winds were blowing strongly out to left field, but Knippschild held the Cowboys to just four runs through eight innings before allowing four more in the ninth.
Oklahoma State (17-9, 4-2) scored a total of 32 runs in the three-game set at Hoglund. But Monday, the Jayhawks beat them at their own game.
"Everybody in the ballpark knew it was a great day to hit," Price said. "It was a scary day. Oklahoma State's whole game plan is getting physical with the bat and elevating the ball. I told the club, 'It's going to take 10 to win today.'"
Kansas broke a 4-4 tie in the fifth inning, starting with a leadoff solo home run from senior Kevin Wheeler. The Jayhawks added three more in the fifth to take an 8-4 lead and never trailed again, adding runs in the sixth and eighth to hit Price's magic number.
"This was huge," Knippschild said. "We don't want to go 0-6 and have to turn around and play Nebraska."
Free State High product Brandon Johnson relieved Knippschild after OSU's Mario Matulich crushed a three-run homer in the ninth. Johnson, who's been battling elbow soreness, had no troubles, earning his third save of the season.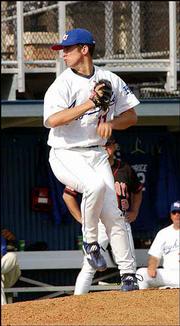 Before the weekend series with Nebraska starting Friday, KU will play a home game with Southwest Missouri State at 6 tonight. Junior Chris Smart (0-1, 4.61 ERA) will start on the mound for Kansas.
Kansas 10, Oklahoma State 8
Oklahoma State 210 100 004 -- 8 12 3
Kansas 101 241 01X -- 10 13 2
W-- Ryan Knippschild (6-2). L-- Jimmy Rhodes (1-1). S-- Brandon Johnson (3).
HR-- Kansas: Ryan Baty (5), Kevin Wheeler (7). OSU: Mario Matulich (4).
KU highlights: Matt Baty 3-for-4, 2B, 2 RBI; Kevin Wheeler 2-for-3, HR, 2 RBI; Ritchie Price 2-for-4, 2 R, SB (6).
Copyright 2018 The Lawrence Journal-World. All rights reserved. This material may not be published, broadcast, rewritten or redistributed. We strive to uphold our values for every story published.