Toronto — Derek Jeter writhed on the ground, grimacing in pain as worried teammates surrounded him.
Despite all the good that happened on opening day for the New York Yankees, what mattered most was their All-Star shortstop's dislocated left shoulder.
Hideki Matsui got his first hit, Roger Clemens won his 294th game and Alfonso Soriano hit his first career grand slam as the Yankees beat the Toronto Blue Jays, 8-4, Monday night.
"It was a good game for us but we can't enjoy it as much as we'd like," manager Joe Torre said. "A lot of good things happened but it's tough when you lose someone like Jeter."
Jeter, the heart and soul of the Yankees, will go on the disabled list and be sidelined for at least two weeks, Torre said. But the extent of the injury wasn't immediately clear. Jeter had X-Rays Monday night and was scheduled to have an MRI today.
"It's going to be a while," he said. "This isn't getting hit by a pitch or spraining an ankle. Hopefully, there's nothing wrong."
Jeter was injured in the third inning when Toronto catcher Ken Huckaby landed on his shoulder during a frightening play at third base.
Jeter was down for more than 10 minutes, and admitted he was "kind of scared."
He was helped onto a cart by trainers Gene Monahan and Steve Donohue, strapped in place sitting upright and taken off the field -- his head bent, his face dripping with sweat.
Jeter's injury was the only thing that went wrong as the Yankees began their 100th anniversary season with their first opener outside the United States.
Matsui drove in the first run with a single in his first at-bat since coming over from Japan. Robin Ventura hit a two-run homer in the fourth and Soriano's slam capped a five-run sixth that knocked out Roy Halladay.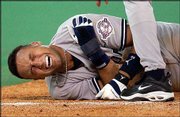 That was more than enough for Clemens, starting what is likely his final season. He allowed three hits in six scoreless innings, moving within six wins of 300.
The Blue Jays caused a stir by taking out an advertisement Sunday that urged fans to boo Matsui and showed a Yankees' hat with bird droppings on it. Toronto manager Carlos Tosca apologized to Torre and the ad ran in Monday's papers with no reference to Matsui.
The fans gave Matsui a mixed reaction -- although there were far fewer boos than for Clemens and Raul Mondesi, both former Blue Jays.
Matsui was Japan's most famous power hitter of late, hitting 332 homers in 10 seasons with the Tokyo Yomiuri Giants. He finished 1-for-4.
Orioles 6, Indians 5
Baltimore -- Gary Matthews Jr. singled home the winning run off loser Jake Westbrook with two outs in the 13th inning -- when only a few thousand of the announced 46,257 fans remained. The game had been interrupted by snow for 13 minutes in the third.
Cleveland scored three runs in the third inning with the aid of a routine fly ball that right fielder Jay Gibbons lost between the huge snowflakes that swirled around the stadium.
Twins 3, Tigers 1
Detroit -- Brad Radke got 19 consecutive outs after a leadoff bunt single, and Dustan Mohr hit a two-run homer over Comerica Park's shortened left-field fence in Alan Trammell's debut as Detroit's manager.
It was the third straight opening win for the Twins, who survived baseball's attempt to fold them after the 2001 season and won the AL Central last year.
Radke, who got the win, struck out three and walked one in 62¼3 innings. Eddie Guardado pitched a perfect ninth for the save, completing the four-hitter.
Devil Rays 6, Red Sox 4
St. Petersburg, Fla. -- Carl Crawford hit a three-run homer with two outs in the bottom of the ninth inning, giving Lou Piniella a victory in his first game as Tampa Bay's manager.
The Devil Rays rallied for five runs in the ninth, ruining another strong opening-day start by Pedro Martinez, who struck out six in seven innings, allowing three hits and leaving with a 4-1 lead.
Pinch-hitter Terry Shumpert had a two-run homer off Alan Embree, and Crawford connected off loser Chad Fox.
Copyright 2018 The Associated Press. All rights reserved. This material may not be published, broadcast, rewritten or redistributed. We strive to uphold our values for every story published.