Srinija Srinivasan, vice president and editor-in-chief of Yahoo! Inc., admits she doesnt possess what many people expect out of one of the Internet industrys most powerful executives foresight.
Srinivasan, a 1989 Lawrence High graduate, was the keynote speaker Monday for a Community Breakfast sponsored by the Lawrence Schools Foundation. About 400 people attended the event.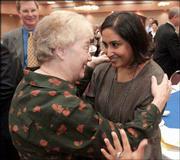 Srinivasan said she landed her job at Yahoo! by accident. Srinivasan said the chain of events leading to the position, which oversees the development of all original content for the worlds largest Internet portal, began when she was a student at Stanford University.
It was at Stanford that I realized I really have no foresight, Srinivasan said. I didnt have any idea what I wanted to be.
Srinivasan eventually settled on a computer science-oriented degree after watching her mother build a career as a computer programmer at Kansas University. But it wasnt her computer science studies that got her foot in the door at Yahoo!. It was her interest in the Japanese language.
Almost as a diversion, Srinivasan had begun taking Japanese classes at Stanford and eventually enrolled for a six month stay at Stanfords campus in Japan. It was there that she met two Stanford doctoral candidates, David Filo and Jerry Yang, who later would go on to found Yahoo!.
In early 1995 Jerry asked me if I wanted to go to lunch, Srinivasan recalled. I just thought it was going to be lunch, but instead he asked me to join them in turning their little Internet hobby into a business.
I dont think anybody could have predicted how that detour to Japan would lead to such a life changing event. But I do know that if I would have known what I wanted to be, I would have never taken that detour.
Srinivasan gives a large amount of credit to Lawrences public education system. She said the district made it easier to take that detour by exposing her to a large number of classes and activities.
I can tell you that coming from a community like this one makes those detours less frightening, Srinivasan said.
The Lawrence Schools Foundations Community Breakfast raised between $10,000 to $12,000, said Mike Maddox, president of Intrust Bank and a member of the foundation.The money, raised by tickets sold to the event, will be used to continue the foundations efforts to support public schools. The nonprofit group helps fund an early childhood education program that serves 96 students, provides scholarship money and runs a grant program that allows teachers to receive money to use in their classrooms.
Srinivasan eventually became the fifth person hired by the company, which now has about 3,000 employees worldwide. Today she oversees several of the companys most popular functions, such as its search directory, Buzz Index, Ask Yahoo! and Daily Picks features.
She said the jobs biggest challenge is finding ways to meet the new demands that Internet users have for the medium. Srinivasan said she began to realize the full extent of how profound an affect the Internet has on peoples lives after the terrorist attacks.
The Internet was being used to support the community organizations that were providing relief, and people were using the Internet to let people know they were OK when all the traditional lines of communication were literally broken down, Srinivasan said.
As far as what the future holds for the Internet, though, Srinivasan said shes not the person to ask.
It goes back to not having any foresight, Srinivasan said.
It has changed incredibly over the last five to 10 years. It has went from being a novelty item to really an essential part of our daily lives, so I cant wait to see what happens in the future.
Copyright 2018 The Lawrence Journal-World. All rights reserved. This material may not be published, broadcast, rewritten or redistributed. We strive to uphold our values for every story published.