Nashville, Tenn. — Tim Couch did his best to shut up the critics who thought backup Kelly Holcomb should be the Cleveland Browns' starting quarterback.
Phil Dawson's 33-yard field goal with 10:47 left in overtime Sunday gave Cleveland a 31-28 victory over Tennessee after Couch rallied the Browns by throwing for three touchdowns, including two in the final 2:35 of regulation.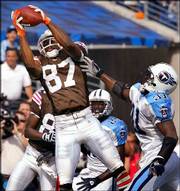 Couch was 36-of-50 for 326 yards in what he called his biggest moment yet in the NFL.
"There was a lot of talk this week whether I should even be the quarterback of this team. I've said all along I don't care what a lot of people on the outside think, but I know these guys in this locker room believe in me and I believe in myself," Couch said.
"Hopefully, today maybe I proved a point."
Couch, who sat out the first two games after tearing scar tissue in his right elbow, showed why Cleveland coach Butch Davis had no qualms putting him back in despite Holcomb being the NFL's second-rated passer.
The 1999 top draft pick picked apart the Titans in helping the Browns (2-1) beat Tennessee for the second consecutive time.
Davis said he was proud of Couch for his play and how he ignored talk by people trying to create a quarterback controversy. He also loved how his Browns overcame four turnovers the Titans turned into three touchdowns.
"I don't think there is a team in the NFL more deserving to win a game like this, with the times we've been snake-bitten the last few years. I talked to the team early in the week, and we brought up the first game of the year," Davis said of losing to Kansas City when Dwayne Rudd was penalized for taking off his helmet, giving the Chiefs the chance to win on a field goal with no time left.
"We said we can let that game do one of two things. It can either build some character for the team, teach us a lesson to fight the entire 60 minutes, or we can let it break us. I knew this team wouldn't want to surrender."
The Titans (1-2) led 28-14 with 5:06 left and blew a second-half lead for a second straight week. Coach Jeff Fisher apologized to the fans.
"We just simply could not make a play," he said.
Credit Couch.
He needed 11 plays to go 80 yards to cut Tennessee's lead to 28-21 with a 12-yard TD toss to Andre Davis with 2:35 to go.
With Tennessee ready for an onside kick, Dawson pooch-kicked the ball over the Titans, and Dennis Northcutt recovered it before it went out of bounds at the Titans 42. Nine plays later, and Couch found Northcutt and the receiver avoided rookie cornerback Mike Echols and scored an eight-yard pass with 12 seconds remaining.
Cleveland won the toss, and Couch needed eight plays to set up Dawson's winning field goal.
The Browns rolled up 403 yards offense, compared with just 187 for the Titans.
"They did what we preach all the time, which is that it's impossible for an offense to make plays when they're on the sideline," Titans receiver Kevin Dyson said. "They kept us there."
The Titans hurt themselves the most in a very sloppy game; they had almost as many yards in penalties (67) as offense (128) through the first three quarters and went three-and-out five times. They looked so out of sync that a sold-out crowd booed repeatedly when Tennessee had the ball in the second half.
49ers 20, Redskins 10
San Francisco All-Pro receiver Terrell Owens scored on a spectacular 38-yard run on which he appeared ready to pass, and the 49ers rushed for 252 yards. San Francisco (2-1) punctuated its win with a monotonously satisfying eight-minute drive led by backup quarterback Tim Rattay, who relieved ill Jeff Garcia (stomach virus). Garrison Hearst, held to 5 yards rushing in last week's loss to Denver, rushed for 97, while Kevan Barlow rushed for 94 and a touchdown.
Broncos 28, Bills 23
Denver Denver, which opened the season by stopping St. Louis and San Francisco, two of the league's best offenses, held off another prolific attack. The Broncos are 3-0 for the first time since 1998, when they won their second straight Super Bowl. Brian Griese threw for two touchdowns and Clinton Portis ran for 103 yards and a touchdown. Denver lost starting tailback Olandis Gary early with a sprained left ankle.
Chargers 23,
Cardinals 15
Tempe, Ariz. For the first time this season, the Chargers (3-0) allowed a touchdown two of them but used a late goal-line stand to preserve victory. But star linebacker Junior Seau had to be helped to the locker room favoring his right leg after he was hurt on the last play of that stand. Arizona's Jake Plummer threw for two touchdowns but was intercepted twice. The first, by Marcellus Wiley, set up a San Diego touchdown. The second was returned 20 yards by Donnie Edwards for a score.
Packers 37, Lions 31
Detroit Brett Favre threw for 357 yards and three touchdowns as the Packers (2-1) held off the Lions (0-3) at the new Ford Field, spoiling rookie Joey Harrington's first start. Favre completed 31 of 47 passes and moved past Warren Moon for fourth on the NFL's all-time list with 294 TD passes.
Giants 9, Seahawks 6
East Rutherford, N.J. Rookie Matt Bryant kicked a game-winning 47-yard field goal with 2:04 to play, the longest of his so-far perfect career. He is 9-for-9. Bryant, waived less than a week before the season and re-signed two days before the opener, added field goals of 33 and 21 yards for the Giants (2-1). William Peterson iced the win for the second straight week with an interception in the final two minutes.
Dolphins 30, Jets 3
Miami Ricky Williams ran for 151 yards and the Dolphins (3-0) snapped their streak of eight consecutive losses to the Jets. Williams sewed up the win with a 53-yard touchdown sprint, the longest gain in his four-year career. Miami has won 17 straight home games in August or September. Miami committed no turnovers. Jay Fiedler, who had thrown eight interceptions in his four previous games against New York, went 16-for-30 for 185 yards and one score.
Panthers 21, Vikings 14
Minneapolis Lamar Smith carried 30 times for 154 yards and scored two fourth-quarter touchdowns for the Panthers, 3-0 for the second time in their eight-year existence and first time since 1996. Smith's 24-yard run provided the winning margin. The Vikings, 0-3 for the first time since 1967, had just 250 yards and turned the ball over four times. Daunte Culpepper was 19-of-30 for 191 yards, a touchdown and a career-high four interceptions. Deon Grant had three interceptions.
Colts 23, Texans 3
Houston Peyton Manning had touchdown passes of 42 yards to Qadry Ismail and 43 to Reggie Wayne, and helped set up three field goals by Mike Vanderjagt. Manning, who threw three interceptions in last week's loss to Miami, completed 21 of 28 passes for 272 yards. He didn't have an interception. David Carr, sacked nine times in last week's loss to San Diego and six times in a season-opening victory over Dallas, went down four times for Houston (1-2) against Indianapolis.
Eagles 44, Cowboys 13
Philadelphia Donovan McNabb completed 24 of 37 passes for 287 yards and three touchdowns and ran for 67 yards and one touchdown. The Eagles (2-1) didn't allow an offensive touchdown for the second straight game. Reggie Swinton's 100-yard kickoff return was the only touchdown for Dallas (1-2). Emmitt Smith ran 11 times for 52 yards, moving within 362 yards of Walter Payton to become the NFL's career rushing leader. Smith's sixth carry moved him ahead of Payton for No. 1 on the rushing attempts list.
Saints 29, Bears 23
Champaign, Ill. New Orleans rallied from a 20-point deficit. Rookie Donte' Stallworth scored on a 29-yard pass from Aaron Brooks with 1:11 left and Sammy Knight stopped a last-second Chicago drive with a goal-line interception. Chicago (2-1) had won all 12 previous games decided by a touchdown or less. But this time, the Saints won the close one to go 3-0 for the first time since 1998 . On the winning drive, Stallworth caught the pass near the sideline, got around defensive back Reggie Austin and coasted into the end zone to make it 27-23. Brooks then ran in for two points.
Falcons 30, Bengals 3
Atlanta Michael Vick threw a pair of touchdown passes to Brian Finneran. Atlanta (1-2) began the season with an overtime loss at Green Bay, followed by a one-point defeat to Chicago when the Falcons missed a field goal in the final minute. Cincinnati provided the perfect remedy. The Bengals (0-3) haven't come close to winning, have been outscored 84-16 and are on quarterback No. 2, benching Gus Frerotte midway through the second quarter when he missed his first seven passes. Vick outgained the Bengals all by himself. He completed 16 of 26 passes for 174 yards.
Copyright 2017 The Associated Press. All rights reserved. This material may not be published, broadcast, rewritten or redistributed. We strive to uphold our values for every story published.