Merida, Mexico — Powerful Hurricane Isidore drove tens of thousands from their homes as it raked the coast of the Yucatan Peninsula on Sunday, then veered inland toward the state capital.
The storm shredded trees, knocked out power, set roofs dancing in the air and prompted the state oil company to evacuate 8,000 oil workers from drilling platforms in the Gulf of Mexico.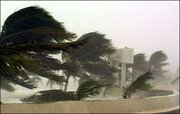 The U.S. National Hurricane Center said the Category 3 storm could grow stronger and veer to north in two days, putting it on a possible course for the U.S. Gulf Coast.
At 7 p.m. CDT, Isidore was about 20 miles east of Merida. It was heading west-southwest at about 8 mph a path expected to continue for at least a day.
The U.S. National Hurricane Center said Isidore's maximum sustained winds were down slightly to 120 mph and could weaken more until it re-emerges over water in the Gulf of Mexico early today.
It was then likely to gradually veer toward Louisiana or Texas.
Yucatan state Gov. Patricio Patron said "the worst of scenarios" was happening as Isidore marched along the state's coast with 125-mph winds, then edged slightly inland toward Merida.
No deaths reported
With many areas cut off by telephone or road, the governor told The Associated Press he had no confirmed reports of deaths and no estimate of damage. Some local radio stations earlier reported deaths from traffic accidents, but details and their relation to the storm were unclear.
The governor said some coastal residents had rejected the appeals of troops trying to enforce his mandatory evacuation order aimed at 70,000 people. Officials canceled classes today for 480,000 students to free classrooms for use as shelters.
The storm blasted down power lines and forced authorities to cut power in other areas because of the danger. Several television and radio stations were knocked off the air.
Winds howled over piles of branches in Merida's main plaza Sunday night as residents huddled in darkened homes, hotels and public buildings.
"I'm supposed to fly out at noon tomorrow, but I'm guessing that's not going to happen," said Richard Syrop, a 22-year-old grocery manager at a health food store in Tucson, Ariz.
Thousands evacuated
The state oil monopoly, Petroleos Mexicanos, announced it was evacuating more than 8,000 workers from oil platforms in the Gulf of Mexico as a precaution. Eight hundred others were left aboard pending developments.
Heavy waves pounded the piers and washed onto coastal boulevards in Progreso, the peninsula's main port city, 20 miles to the north. Reporters saw light poles uprooted and hurled to the ground as their lamp fixtures continued to twirl in the winds above.
Hundreds of fishermen had returned to shore and secured small boats as the storm neared Progreso, said Capt. Alberto Ordaz Galindo, in charge of navigation for the port captain's office.
Isidore dumped 12 to 20 inches of rain on the sparsely populated northern coastline of the peninsula, knocking out phone and power services to small villages.
Copyright 2018 The Associated Press. All rights reserved. This material may not be published, broadcast, rewritten or redistributed. We strive to uphold our values for every story published.