Pasadena, Calif. — Colorado stewed for a full week after being humiliated by one Los Angeles school. Then, the Buffaloes took out their anger and frustration on the other.
Chris Brown gained 188 yards on 26 carries and scored three touchdowns Saturday as Colorado pounded No. 20 UCLA, 31-17, to snap the Bruins' nine-game winning streak against nonconference opponents.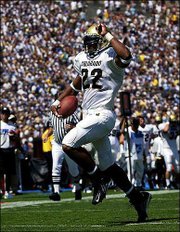 Playing without starting quarterback Craig Ochs, the Buffaloes were held to four first downs and 61 yards of total offense in a 40-3 loss to No. 11 Southern California last weekend their most lopsided loss in 10 years and most one-sided loss at home since 1983.
Colorado (2-2) got 27 first downs and 471 yards of total offense while holding UCLA (2-1) to 20 first downs and 284 yards by running and passing.
"At least this week, I'm not going to go home and kick my dog," Colorado coach Gary Barnett said. "I can't compare USC and UCLA because last week our team didn't show up. It's hard to get your guys up to play a team that showed on film the way we showed."
"We got insulted last week, both on and off the field. Our guys challenged each other. That was the Colorado Buffalo team I'm used to seeing and being around."
Ochs remained sidelined because of a concussion, but his absence wasn't nearly as critical this week. Robert Hodge completed 11 of 22 passes for 117 yards and made a 29-yard reception on a trick play, but the story was Brown and the rest of the Colorado ground game, which rolled up 325 yards on 51 carries.
Bobby Purify added 87 yards on 14 carries.
"We didn't have the answer for what they gave," UCLA safety Matt Ware said. "They were tougher than I thought. It was a very frustrating game."
No. 21 Iowa State 42, Troy State 12
Ames, Iowa Seneca Wallace passed for three touchdowns and ran for another and Todd Miller scored on a punt return for the second time this season. Playing as a ranked team for the first time in 21 years, Iowa State (4-1) also scored off a blocked punt and dominated. Wallace, often throwing on the run, completed 17 of 25 passes for 295 yards with no interceptions. He scored on a 1-yard run and had touchdown passes of 54 yards to Lane Danielsen and 20 and 4 yards to Lance Young.
No. 3 Texas 41, Houston 11
Austin, Texas Cedric Benson ran for 160 yards on 37 carries and Chris Simms passed for two touchdowns for Texas. Beau Trahan scored a touchdown on a fake field goal, and Michael Huff returned an interception for a TD for the Longhorns (3-0), who beat their old Southwest Conference rivals for the seventh straight time.
Baylor 37, Tulsa 25
Waco, Texas Aaron Karas threw for a touchdown and ran for another as Baylor held on to stretch the nation's longest losing streak to 14 straight games. The Bears (2-2) drove 85 yards for a touchdown against Tulsa (0-4) on their first possession.
Oklahoma State 52, SMU 16
Stillwater, Okla. Seymore Shaw scored three times and Josh Fields threw three touchdown passes in a 45-point first half for Oklahoma State. The Cowboys (2-2) scored all seven times they had the ball in their most-productive half since scoring 45 points against Wyoming in the second half of the 1988 Holiday Bowl. The Mustangs (0-4) were outgained 345-88 in the half.
Copyright 2018 The Associated Press. All rights reserved. This material may not be published, broadcast, rewritten or redistributed. We strive to uphold our values for every story published.