Failure of Kansans to grasp the importance of the new federal "No Child Left Behind" education law could be devastating to the state's public schools, a state education official says.
Alexa Pochowski, assistant commissioner of the Kansas State Department of Education, said about one-third of Kansas' 1,600 schools could be in hot water within five years if people don't take seriously this new reach into public school classrooms.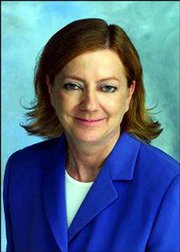 "It's not just going to change the face of education in Kansas, it's going to change the face of education in the United States," Pochowski said.
At presentations like one recently at Free State High School, which will be repeated there at 4 p.m. Oct. 2, Pochowski said it wasn't difficult to convince people of the need to improve public education.
But it's a tough sell to get folks to agree that nuts-and-bolts elements of "No Child Left Behind" are in the best interests of children, she said.
Scott Morgan, the Lawrence school board president, is a case in point.
He said he got stuck on a core provision of the law that assumed it was possible for each school to make significant annual progress in student achievement from now through 2014.
"The serious defect of 'No Child Left Behind' is the mathematical impossibility of the ultimate goal. You can't have improvement forever," Morgan said.
However, Pochowski said, that's precisely what "No Child left Behind" calls for over the next 12 years.
Individual schools must meet "adequate yearly progress" targets toward the goal or suffer financial and academic consequences, she said. The law also requires states to make certain all students meet a standard of academic "proficiency" within 12 years.
That's why public schools, even those struggling with tight budgets, need to respond appropriately to this reform effort, she said.
"We're not just changing the behavior," Pochowski said. "We're changing the attitude."
Impact of the law signed by President Bush in January is immediate. It requires states and districts to publish new report cards in 2002-2003 outlining student achievement. Federal funding to public schools also is shifting this year to better target poor children.
By 2005-2006, every teacher working in a public school must be "highly qualified." The law says teachers can hit that threshold by gaining certification or demonstrating proficiency in his or her subject matter.
Also that year, the federal government will require states to begin testing students annually in third through eighth grades in reading and math. A science test is to be added in 2007-2008.
This testing will be a financial challenge for the Lawrence school district, which currently budgets for a less rigorous assessment schedule.
Pochowski said all public schools would need expanded test results to provide evidence of academic improvement.
If a school fails to meet student achievement expectations two years in a row, its students must be offered a choice of other public schools in the district to attend. Districts would pay to transport these students to alternative schools.
Students in schools that fail to make adequate progress three years in a row must also be offered supplemental educational services, including private tutoring.
After a fourth year of substandard progress, the district will be required to replace staff and implement a new curriculum.
Morgan said he assumed academic and financial realities of the new federal law would require it to be revised before it expired in a dozen years.
"Everybody knows that," he said, "but you have to plan now as if there won't be change.
"It's all a classic case of the federal government acting to solve a legitimate problem. But, as usual, the feds don't have to deal with actual implementation at the local level."
Copyright 2018 The Lawrence Journal-World. All rights reserved. This material may not be published, broadcast, rewritten or redistributed. We strive to uphold our values for every story published.