Pat Kehde and Mary Lou Wright remember the look they received from their male counterparts when they began making plans to open their independent bookstore, The Raven, 15 years ago.
It was a look that seemed to say, "You must be kidding."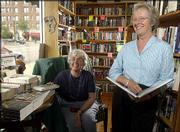 "I remember this one guy at a book sellers school who obviously thought we were just a couple of ladies who sit at home with our kids in the toddler pool and had no idea how to run a business," Kehde said. "There was a lack of seriousness from people when we told them what we were doing."
The co-owners of the store, at 6 E. Seventh St., believe they are taken more seriously today. They recently learned they've been chosen by the Kansas Department of Commerce and Housing as the state's Woman-Owned Business of the Year in the retail category. The pair will receive the award at a special luncheon Oct. 15 in Topeka.
Wright agreed the business, which opened Sept. 1, 1987, faced additional challenges because it was owned entirely by women. She said that was what made the award even more gratifying for her.
"I remember one man in town, who has since left, who would only refer to the store as a hobby, not a business," Wright said. "It always made me mad, but this award is a real honor because it says we're a business, not a hobby."
Typical challenges
Bankers were some of the worst offenders, the pair said.
"When we first started out, I particularly felt like whenever we went to see a banker, we weren't taken as seriously as we would have been if we were men," Kehde said. "And I'm not someone who sees a male ogre behind every bush, but I definitely felt that way."
Economic development professionals who help women start their own businesses said the feeling wasn't unique.
"Access to capital has been the biggest challenge for women," said Cassandra Parks, women business ownership representative for the Kansas City district of the Small Business Administration. "I know in the past when a woman went to the bank it was always the same story. The banker said he would think about giving you a loan if your brother or husband would sign on the loan."
Kehde and Wright eventually gave up on trying to get a traditional business loan and instead borrowed from family and friends. Wright took out a second mortgage on her home to raise the $40,000 in startup capital for the business.
Rhonda Harris, director of the office of Minority and Women Business Development with the state's department of commerce, said some of the same challenges still existed today.
"There are still a lot of financial institutions that want the husband to be the main rider on a loan," Harris said. "I guess it is just like everything else. Change takes some time to happen.
"Some of the lenders are just from the background where men have always been the ones to receive the financing, and they just have a hard time seeing it any other way."
But both Parks and Harris agreed attitudes were getting better. Parks said new data from the SBA showed 43 percent of all privately owned businesses in the country were owned by women, and that the number of woman-owned firms was growing at twice the rate of all U.S. firms.
Harris said the fact women were succeeding at business despite the extra challenges was the main reason that the department started the award program 18 years ago. The program honors women-owned and minority-owned businesses in 13 different categories. This year the program received more than 50 nominations from economic development leaders, bankers and legislators. Rep. Barbara Ballard, D-Lawrence, nominated The Raven.
Harris said businesses provided a committee information about their companies and the committee then scored the businesses on a variety of factors.
"We look at their contribution to the community. We look at their growth and development, and really we look at the obstacles they've had to overcome," Harris said.
David vs. Goliath
In 1997, The Raven faced an obstacle almost as large as the skeptical bankers Wright and Kehde had approached 10 years earlier. A Border's bookstore, the second largest bookstore company in America, opened across the street from their business.
"That was a time when all the chain bookstores were expanding so rapidly, and lots of small bookstores were closing," Kehde said. "So we were scared and apprehensive.
"But we thought if we continued to nurture the relationship with our customers, we would be OK. We realized we couldn't do everything and do it well. We've just tried to focus on our areas of expertise."
That has meant a large selection of regional authors, a particular emphasis on mystery novels and harder-to-find works of literary fiction.
The strategy has paid off, both women said. In fact, on the first day that Border's opened, The Raven posted its best sales day.
Kehde and Wright, who first began thinking of ways to go into business together when they were college classmates, said the store on that day was flooded with community members who made a special trip to show their support for the independent business.
"We've always had so much support from so many people in Lawrence," Wright said. "When we win an award like this, I really don't know who to send the thank-you note to."
But sales ultimately did slow after Border's opening, and they said perhaps more importantly, after the emergence of online book retailer Amazon. But now the business is once again posting sales growth.
And Wright, who is the bookkeeper for the business, said she and Kehde always had been able to steer the business clear of financial troubles despite obstacles. Although the company doesn't release its revenue totals, Wright said the business had finished in the red only one year, a loss of only $300.
Wright has a theory about why the business has been able to do so well. She thinks it might be because of the very thing that many people believed was a handicap 15 years ago it's owned by women.
"Successful business owners are always running around and trying to catch up with the next problem," Wright said. "Women are better at juggling five jobs at once. That's what we've been doing forever. I think that's helped us."
Copyright 2018 The Lawrence Journal-World. All rights reserved. This material may not be published, broadcast, rewritten or redistributed. We strive to uphold our values for every story published.