School district consultants today will unveil 10 options for upgrading or reorganizing Lawrence school district buildings.
Among the options are plans for at least $50 million in construction spending. Others would close six elementary schools.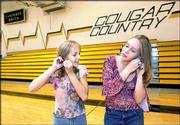 The seven alternatives for reorganizing the district's 18 elementary schools and three proposals for altering the four-school junior high setup will be presented by DLR Group of Overland Park to the school board in a public meeting at 11 a.m. today at district headquarters, 110 McDonald Drive.
Among the various options, six elementary schools are offered for closure Broken Arrow, Centennial, Cordley, East Heights, New York and Riverside. All five options mentioning consolidation include Riverside School, the district's smallest elementary.
Consultants also suggest turning Central Junior High School into an administration building or community center, replacing South Junior High School and acquiring land for construction of a new junior high in northwest Lawrence.
The plan assumes any school that remains open would be renovated to better meet students' needs.
'Difficult decisions'
"It's going to force us to make necessary but difficult decisions," said Scott Morgan, school board president. "We have to start eliminating options."
He said the goal of the three-hour meeting would be to find board consensus on two or three options DLR Group could explore in greater detail.
Brad Kiehl, an associate with DLR Group, said the firm would encourage the board to combine parts of different proposals or tweak alternatives to come up with what was best for the community.
"The options presented aren't the only ones that will meet the existing needs," he said.
These are among the schools mentioned in the DLR Group's report to the Lawrence school board as candidates for closure or consolidation:
Broken ArrowCentennialCordleyEast HeightsNew YorkRiversideCentralSouth
The school board has been working more than a year on a 20-year facilities master plan to guide building consolidation, renovation and construction as well as land acquisition for future schools in population growth areas.
DLR Group has conducted 48 information-gathering meetings in Lawrence, including 14 community sessions. The firm's staff interviewed 185 district employees and assessed the condition of each school.
With the board's guidance, the consultants developed a blueprint that contains the baseline of what district schools should be. The baseline reflects ideal student class size, support staff meeting space, lunch and gym facilities and much more.
"This report should give the Lawrence community a good springboard for discussion," said Supt. Randy Weseman.
He predicted none of the options presented by DLR Group would survive intact.
Equalizing opportunity
Morgan said a primary objective of the facilities planning was to equalize educational opportunity for children in the 10,000-student district.
The current mix of school buildings, he said, doesn't accomplish that.
"Our schools are not equitable at this time," he said.
Under options to be presented by DLR Group, cost estimates for the elementary school construction ranged from $28.7 million to $61.8 million. For the junior high schools, options ranged from $23.6 million to $44.3 million.
Weseman said gaining community consensus on a facilities master plan for the public school district was a "delicate and fragile" process that could break down at any time.
The superintendent said the district intentionally chose a "painstaking" approach for developing the plan. He said a slow-paced process was the only way the diverse residents of Lawrence could embrace long-term planning for public education that incorporates substantial change.
"It's a complicated task," he said. "It's one the community has struggled with before."
What happens next
DLR Group's presentation will be carried live on Sunflower Broadband channel 26.
The firm's staff will present the same information and accept public comment at a community meeting from 5:30 p.m. to 7:30 p.m. Sept. 25 in district headquarters.
On Oct. 2, DLR Group will outline options for improving the district's two high schools, dealing with an inadequate building for the Alternative High School and possibilities for creating district athletics facilities.
Morgan said it might be possible for the school board to craft a tentative action plan in late October. After bouncing that off community members, that document would be the seed of a bond issue designed to generate tax financing for school construction and renovation.
It's unclear whether the bond issue would be put to voters before the school board election in April. The seats of four of the seven board members Sue Morgan, Jack Davidson, Mary Loveland and Scott Morgan are up for re-election.
Scott Morgan said the election might complicate work on the bond issue.
"The issue floating out there is how do we keep this from becoming a one-issue election," he said.
Copyright 2018 The Lawrence Journal-World. All rights reserved. This material may not be published, broadcast, rewritten or redistributed. We strive to uphold our values for every story published.