Landover, Md. — An impressive offense was on display for Steve Spurrier's first Monday night game and it belonged to the other team.
Donovan McNabb threw two touchdown passes, ran for another and threw for 292 yards as the Philadelphia Eagles routed the Washington Redskins 37-7.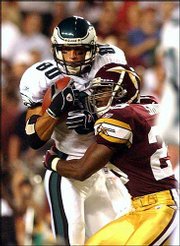 The game was stopped briefly in the fourth quarter when police used pepper spray to break up a fight in the stands. The Eagles players scattered from their bench onto the field. They and fans in the stands on that side of the stadium were holding their noses with concerned looks on their faces in a time when people are so worried about security.
After a brief conference between referee Bob McElwee and a uniformed officer, play resumed after a delay of eight minutes.
"Whenever you see your teammates coming out on the field and pretty much grabbing their throats or covering their nose, it's a pretty tough situation," McNabb said. "I've never been a part of anything like that. It's a first for me, it's probably a first for Monday night. Hopefully, it doesn't happen again."
Redskins spokesman Karl Swanson said a Prince George's County police officer intervened in a fight and that a "small amount of pepper spray" was used to move the fans back. The cooling fans on the Philadelphia bench helped spread the spray quickly.
Swanson initially said the officer was injured, but the Redskins later released a statement saying the officer was not hurt.
No arrests were made.
The Eagles defense didn't allow a touchdown. The Redskins best field position to start a drive was their own 29, and they never got beyond Philadelphia's 35. Washington's only score came on Jacquez Green's 90-yard punt return in the second quarter.
It was Spurrier's worst defeat as a coach since a 62-24 loss to Nebraska in the Fiesta Bowl on Jan. 2, 1996. He had only one other loss by 30 or more points: 45-3 at Tennessee in 1990.
And it didn't matter who the quarterback was. Danny Wuerffel played the second half after Shane Matthews left the game with a bruised shoulder on the Redskins last offensive play of the first half, and didn't fare any better.
Matthews was 10-of-22 for 62 yards and an interception, while Wuerffel was 6-of-9 for 57 yards with one interception and four sacks.
"We got clobbered," Spurrier said. "We never could go anywhere. They beat us every which way."
The Eagles (1-1) bounced back after blowing a 24-10 lead in a 27-24 loss to Tennessee the previous week, while the Redskins (1-1) had won their opener against Arizona.
"We started fast and we finished strong, which is something we had to do after last week's extravaganza," Philadelphia coach Andy Reid said.
Spurrier showed a range of emotions, from wiping away tears following a moment of silence for Johnny Unitas to lots of face-rubbing and head-scratching. For the record, he wasn't wearing his trademark visor because it was a night game.
The Redskins opened in the no-huddle offense for the second consecutive week, every play in the opening drive was either a run or a short pass to a running back. Matthews was completely out of sync, and the offense didn't cross midfield until the final drive of the half.
Spurrier went for it on fourth down twice, once on fourth-and-1 from his own 38. Stephen Davis ran for 10 yards on the play, but Matthews was intercepted by Troy Vincent three plays later.
The sure sign that things weren't going right: Spurrier gave cornerback Champ Bailey his first offensive touch since 2000 on a pitch reverse, but Bailey fumbled the ball on a hit by Carlos Emmons. The Eagles converted the turnover into a field goal.
The Eagles, meanwhile, were an offensive thing of beauty on the first drive. James Thrash got cornerback Fred Smoot completely lost on the first play and caught a pass for a 33-yard gain.
Todd Pinkston caught a 26-yarder over Darrell Green, and McNabb capped the six-play, 80-yard drive by scrambling outside of Pro Bowl linebackers LaVar Arrington, Jeremiah Trotter and Jessie Armstead for eight yards into the end zone.
On the second drive, McNabb, who completed 26 of 38 in the game, rolled out and suckered Armstead into leaving Duce Staley alone for a 22-yard reception. The Redskins eventually forced the Eagles to kick a field goal, but Arrington jumped offside on the attempt to give the Eagles a first-and-goal that McNabb converted into a 2-yard TD pass to tight end Jeff Thomason.
Reid blamed himself for getting conservative when Philadelphia blew the 14-point lead against the Titans last week, and he wasn't about to make that mistake with a 16-point lead this week. McNabb went long and hit Thrash with a 39-yard TD pass to Thrash early in the third quarter to make it 30-7.
Dorsey Levens had a 47-yard TD run in the fourth quarter.
McNabb was 11-for-12 in the first quarter and 19-for-27 at halftime. He also ran for 36 yards on five carries.
Copyright 2018 The Associated Press. All rights reserved. This material may not be published, broadcast, rewritten or redistributed. We strive to uphold our values for every story published.