San Francisco — Denver appears ready to reclaim its status as one of the NFL's elite teams, led by a punishing defense that has contained two supposed Super Bowl contenders.
Mike Anderson rushed for 95 yards and caught a touchdown pass, and Brian Griese threw two TD passes as the Broncos beat the punchless 49ers, 24-14, Sunday.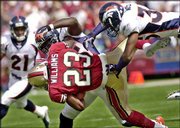 Olandis Gary rushed for 61 yards and a TD as Denver (2-0) followed up a surprising 23-16 win over St. Louis in its opener with a dominant defensive performance against San Francisco (1-1).
Denver held the 49ers to 261 yards 67 on a meaningless final drive. Fans booed their team heartily in the second half, and thousands headed for the exits early.
"That's one of the most complete games we've played in a while," linebacker Ian Gold said. "They got frustrated because we were stopping everything they did."
The Broncos, who have missed the playoffs in two of the past three seasons, handed the 49ers just their second loss in the last 10 games.
"We just stunk it up all across the board," said Terrell Owens, who caught five passes but had just one in the first three quarters. "Everybody messed up."
Griese, who was almost benched for Steve Beuerlein last week, was unimaginative but efficient in completing 14 of 19 passes for 119 yards. He threw a 1-yard scoring pass to Anderson in the third as Denver overcame a slow start on offense with 24 straight points over the final three quarters.
The Broncos also overcame the loss of their radio headsets during the first half. Denver, which hadn't played in San Francisco since 1997, apparently was using the same radio frequency as the 49ers, and the Broncos were forced to call plays with a shuttle system from coach Mike Shanahan until the problem was fixed.
San Francisco quarterback Jeff Garcia was 27-of-36 for 205 yards, but he fumbled once and threw a key interception in the fourth.
Bills 45, Vikings 39, OT
Minneapolis Overtime was much kinder to Drew Bledsoe and the Buffalo Bills this week, as Peerless Price took a pass from Bledsoe and streaked untouched for a 48-yard touchdown to beat Minnesota. Bledsoe had not only the best passing day of his career, but the best of any Bills quarterback ever. He was 35-of-49 for 463 yards, surpassing the franchise mark of 419 set by Joe Ferguson in 1983.
Giants 26, Rams 21
St. Louis Kerry Collins couldn't miss, and the Rams fell to 0-2 for the first time since 1998, the year before they began their sudden rise to the top of the NFC. Collins completed 14 of his first 15 passes as the Giants (1-1) built a 17-point second-quarter lead and held on to beat the defending conference champions. St. Louis' offense has produced 37 points in two games.
Dolphins 21, Colts 13
Indianapolis Ricky Williams ran for 132 yards on 24 carries and caught a touchdown pass, then watched the Dolphins' defense hold on to win for the fifth straight time in Indianapolis. Jay Fiedler was 13-of-18 for 187 yards and two touchdowns, and he also ran for a 1-yard TD for Miami (2-0). Williams became the first Dolphins rusher to top 100 yards two straight games since Bernie Parmalee in 1994.
Saints 35, Packers 20
New Orleans Aaron Brooks outperformed mentor Brett Favre by throwing two touchdown passes, and the relentless New Orleans defense led the Saints past Green Bay. Brooks, who spent the 1999 season as Green Bay's third-string quarterback, was 16-of-28 for 217 yards as New Orleans jumped out to an early 21-3 lead. The Saints (2-0) allowed 357 total yards, but the Packers (1-1) had just 95 on the ground..
Cowboys 21, Titans 13
Irving, Texas Quincy Carter quieted his critics, for the moment at least, by passing for 240 yards and no interceptions as Dallas rallied from last week's bitter defeat to expansion Houston. Carter, a lightning rod for the season-opening 19-10 loss to the Texans, perfectly executed a play fake for a 17-yard touchdown, then turned another well-run play-action into a 38-yard touchdown pass to Joey Galloway early in the fourth quarter.
Bears 14, Falcons 13
Atlanta Brian Urlacher had a sensational game for Chicago, recovering a fumble by Michael Vick, sacking the speedy Atlanta quarterback and recording 12 tackles as the Bears improved to 2-0 for the first time since 1991. Jim Miller threw a 14-yard TD pass to David Terrell early in the third quarter and the Bears held on, thanks to a missed field goal. Vick put the Falcons (0-2) in position to win, driving his team 44 yards to the Chicago 28. But the Falcons couldn't get a first down, and Jay Feely's 45-yard field-goal try was wide left.
Patriots 44, Jets 7
East Rutherford, N.J. Tebucky Jones and Victor Green had defensive touchdowns and Tom Brady threw two TD passes for the Patriots, who seem to have dispelled all doubts that their Super Bowl win was a fluke. Adam Vinatieri kicked three field goals as New England (2-0) won its eighth straight regular-season game. So strong was the Patriots' defense that it held the Jets (1-1) to one first down until Matt Turk ran 14 yards a fake punt with 4 1/2 minutes left in the third quarter. Vinny Testaverde then hit Santana Moss for 35 yards.
Buccaneers 25,
Ravens 0
Baltimore Karl Williams returned a punt 56 yards for a touchdown and Derrick Brooks scored on a 97-yard interception return as Tampa Bay gave John Gruden his first victory as Buccaneers coach. The Bucs (1-1) limited the Ravens to six first downs before the fourth quarter and repeatedly frustrated Baltimore quarterback Chris Redman.
Panthers 31, Lions 7
Charlotte, N.C. Rodney Peete passed for 310 yards and a touchdown for Carolina, which was happy to get a victory against the league's second-worst team from last year. The Panthers actually looked good in doubling their win total from a year ago, when they lost their last 15 games. Now they're 2-0 for the first time since 1996. The Lions (0-2) dropped their 10th straight road game and appeared just as bad as last year's team that went 2-14.
Cardinals 24,
Seahawks 13
Seattle Thomas Jones ran for a career-high 173 yards and MarTay Jenkins had a 95-yard kickoff return in the fourth quarter as the Cardinals rallied for the victory, ending Dilfer's 15-0 record as a starter. Dilfer, whose last defeat as a starter came with the Ravens against Pittsburgh two years ago, was 29-of-47 for a career-best 352 yards and a touchdown, but he slowed down in the second half after leading the Seahawks (0-2) to a 10-3 lead at the break.
Browns 20, Bengals 7
Cleveland Gus Frerotte proved he's not ambidextrous, and the Browns atoned for the mistakes of their opener by handing Cincinnati its second straight drubbing in Cleveland. Late in the second quarter, Frerotte was trying to avoid a sack by Cleveland's Orpheus Roye when Frerotte flung the ball with his left non-throwing hand. Kenard Lang intercepted and ran 71 yards to set up a touchdown that put the Browns ahead 17-0. Linebacker Dwayne Rudd promised fans a great performance to make up for his helmet-throwing blunder a week earlier, but he had only one tackle. The Browns' defense didn't have to be great against Cincinnati (0-2), though.
Chargers 24, Texans 3
San Diego If the Texans didn't look like an expansion team in their opener, they sure did by the time Junior Seau and the San Diego Chargers were done with them. Seau, the perennial Pro Bowl linebacker, intercepted rookie David Carr to set up one of Curtis Conway's two touchdowns, and defensive end Raylee Johnson recovered Carr's fumble in the end zone for another score by the Chargers (2-0).
Raiders 30, Steelers 17
Pittsburgh Oakland didn't just go back to Pittsburgh's loss to New England last week for its game plan. The Raiders returned to their days in the pass-happy AFL. Rich Gannon broke nearly every major single-game Raiders passing record, even those from the early days of the AFL, by throwing 64 times and Oakland's defense forced five turnovers as the Raiders beat the winless Steelers. Just as the Patriots' Tom Brady did Monday in a 30-14 win over Pittsburgh, Gannon came out throwing only he didn't stop, going 43-of-64 for 403 yards and a touchdown. The 43 completions were only two short of Drew Bledsoe's 1995 NFL record that in an overtime game and all but the yardage were Oakland records. The Raiders rushed only 14 times.
Copyright 2018 The Associated Press. All rights reserved. This material may not be published, broadcast, rewritten or redistributed. We strive to uphold our values for every story published.