Rome — Rome conferred honorary citizenship on a Nigerian woman who was sentenced to death by stoning for adultery in her country but was acquitted on appeal following an international outcry.
Safiya Hussaini, carrying her infant daughter, Adama, received the honor from Mayor Walter Veltroni in the capital's Campidoglio square.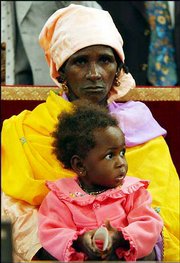 "I am grateful and thankful," Hussaini told a press conference before the ceremony. "You have taken an interest in me without even knowing me."
Italy has been at the forefront of an international campaign to spare the life of the woman, who was convicted by an Islamic court in Nigeria last year of conceiving a child with a married neighbor. The court ordered that Hussaini, a mother of five, be stoned, with the lower part of her body buried in sand.
International rights organizations, women's groups, European Union parliamentarians and U.S. lawmakers condemned the sentence, urging Nigerian President Olusegun Obasanjo to intervene on her behalf. In Rome, a series of candlelight vigils were staged in front of the Nigerian Embassy.
An appeals court acquitted Hussaini in March after ruling that her alleged confession was inadmissible because authorities had not adequately informed her about the crime's seriousness under Shariah, or Islamic law.
"We hope that this honorary citizenship which we are symbolically giving to Safiya could influence the whole world to put an end to death penalty and that there be respect for the rights of women taking into account of course, different cultures and religions," Veltroni said Monday.
Back home, the news of Hussaini's voyage to Rome angered some.
The governor of the woman's home state of Sokoto, Attahiru Dalhatu Bafarawa, said he had tried to block Hussaini's trip, ordering security agents across Nigeria to find her and bring her back so that she could not attend the Rome ceremony.
"I was against the invitation from the beginning," the state governor said Monday on Sokoto State Radio. "I will write to President Obasanjo and ask him to explain why Safiya was allowed to travel to Rome."
Another official, Ahmed Sani, the governor of the state of Zamfara, saw the Rome ceremony as an attempt to embarrass Islam, convert Hussaini and allow her daughter to immigrate to Italy.
Despite the outcome of Hussaini's case, in March an Islamic court in northern Nigeria sentenced another woman, 30-year-old Amina Lawal, to death by stoning for adultery.
"Since I am now free, I pray to Almighty God that Amina will be free also," said Hussaini.
Nigeria is deeply divided about the application of Islamic law. Decisions by a dozen states in Nigeria's mainly Muslim north to adopt the strict Islamic code since 1999 have sparked violent clashes with the region's Christian minority.
Copyright 2017 The Associated Press. All rights reserved. This material may not be published, broadcast, rewritten or redistributed. We strive to uphold our values for every story published.