HAGERSTOWN, MD. — Rebel yells greeted the first cannon blasts Friday as 13,000 Civil War buffs gathered to re-create the bloodiest day on U.S. soil the Battle of Antietam.
Joe Ruffo summed up why he drove 250 miles from Lakewood, Ohio, to spend three hot days in the woolen uniform of a 54th Ohio Infantry private: "You get to live it."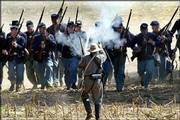 Part party, part history lesson, the 140th anniversary event is the largest Civil War re-enactment this year and the second-largest ever staged behind a Gettysburg re-enactment in 1998.
Organizers expect as many as 70,000 spectators during three days to watch the mock clashes on 1,000 privately owned acres 70 miles north of Washington and 10 miles from the real battlefield.
Co-chairman Dennis E. Frye, a former National Park Service historian, said the event was intended to teach people about the decisions that led to the Civil War, including the battle beside Antietam Creek on Sept. 17, 1862, that left 23,000 men dead, wounded or missing.
"Our theme is 'Live It, Learn It,' and during this weekend, this is the largest classroom in the United States," Frye said.
Authenticity is the goal, but Ruffo said he and the other 20 members of his party have modern conveniences such as cots and coolers hidden from view at their campsite on the Union side of the mulch-covered road that divides the re-enactment site.
Holmes, 60, a private in the Confederacy's Palmetto Battalion, was more of a stickler, at least as far as his uniform went. His gray jacket sported U.S. Army buttons and lacked red trim, reflecting the wartime shortage of metal and dye.
Civil War scholars increasingly regard Antietam, sometimes called the Battle of Sharpsburg, as the turning point of the war. Although the Confederates' northern advance ended at Gettysburg, the Union victory at Antietam 10 months earlier persuaded European rulers not to recognize the Confederacy and gave President Lincoln the political strength to issue the Emancipation Proclamation.
Copyright 2018 The Associated Press. All rights reserved. This material may not be published, broadcast, rewritten or redistributed. We strive to uphold our values for every story published.