A Lawrence abortion clinic one of a handful in Kansas has gone out of business.
"We just don't have the funds to keep functioning. We've run up as much debt as we could manage. Essentially, we don't have operating capital at all," said Dr. Kristin Neuhaus, who had operated a clinic in Lawrence since 1997.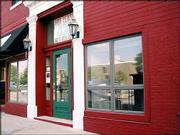 The last few items still in the office suite at 205 W. Eighth St. were to be removed today. Neuhaus said she also would have completed follow-up visits with patients by the end of the day.
Abortion opponents said they were delighted the clinic had closed.
"That's the best news I ever heard," said Mary Kay Culp, a spokeswoman for Kansans for Life, the state's leading anti-abortion group.
Neuhaus said the clinic fell about $100,000 in debt, never having recovered financially from several weeks of inactivity in 2001. The clinic suspended business then after the Kansas Board of Healing Arts began investigating the clinic's record keeping and an allegation Neuhaus performed an abortion on a patient who had withdrawn consent for the procedure.
That allegation was never substantiated, and Neuhaus took corrective measures that satisfied board concerns about record- keeping and administration of sedatives.
"Her closing is certainly not connected to anything we've done that I'm aware of," said Mark Stafford, general counsel for the Board of Healing Arts.
But Neuhaus said the clinic never bounced back from losses incurred during the 2001 shutdown.
"We had no income for six weeks, which is over 10 percent of the year, and then the weeks following that we had 25 percent loss for the rest of the year," Neuhaus said.
Meanwhile, operating costs continued to rise, the doctor said.
Over the years, Neuhaus has been vilified by mainstream abortion opponents and sometimes threatened by anti-abortion extremists. Her clinic was a regular stop for anti-abortion demonstrators.
Neuhaus said she often kept an automatic pistol handy in her office in case she needed to protect herself, her patients or employees.
"The security necessary is something on the level of a paramilitary operation," Neuhaus said. "I kept myself as isolated as possible."
News of the clinic's closing moved Culp to harsh words.
"Neuhaus has been the poster child for the abortion industry's stranglehold on medicine and its so-called state regulators," the Kansans for Life spokeswoman said. "All along, Neuhaus whined about her impoverished financial condition and undocumented threats of violence. The real violence has been perpetrated on the dead children and shoddily treated women who paid Neuhaus' fees. Thank God she is closed."
Kansas Republicans have nominated conservative, anti-abortion candidates to run for governor and attorney general. Neuhaus said she also worried her business would become even less tenable if one or both candidates were elected.
When it comes to abortion, Neuhaus said, "the political environment in Kansas is just dreadful, just barely better than Afghanistan."
Neuhaus said she would be disappointed if abortion opponents hailed the clinic's closing as a victory for their movement.
"To me they're insignificant," she said. "I can't say anything about them that would be repeatable in the paper. They're a bunch of hypocrites. I'm sure many of them have had abortions or have relatives who have had abortions."
There are two remaining abortion clinics in Wichita and four in the Kansas City metro area, Neuhaus said.
Copyright 2018 The Lawrence Journal-World. All rights reserved. This material may not be published, broadcast, rewritten or redistributed. We strive to uphold our values for every story published.