The WildCare animal rehabilitation facility east of Lawrence is being investigated by state and federal agents for its apparent mishandling of protected birds of prey.
Six owls, two hawks and a turkey vulture were seized from WildCare by U.S. Fish and Wildlife Service agents. All were suffering nutritional problems. Two were immediately euthanized. A hawk was found to be permanently disabled because of inadequate follow-up treatment to a wing.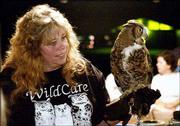 This is at least the second time in the past decade WildCare and its director, Nancy Schwarting, have come under government scrutiny for allegedly violating wildlife regulations.
In this instance, according to volunteers, officials, and others familiar with the agency's operations, WildCare's ability to care for protected raptors is at the center of the investigation. The organization also apparently violated legal limits on the length of time it could retain birds of prey at its facility.
WildCare's inability to maintain accurate, up-to-date records also has raised red flags. For example, WildCare has yet to turn in a 2001 tax return. It doesn't appear to have a functioning board of directors, and WildCare volunteers have written letters of complaint to dozens of state and federal officials.
Federal investigation
Kenny Kessler, special agent with the U.S. Fish and Wildlife Service stationed in Topeka, said he wasn't permitted to comment on the case.
"We don't want to compromise an investigation," he said.
It's possible the probe could result in revocation of WildCare's state and federal permits to rehabilitate wildlife and keep animals for education purposes. The permits are in Schwarting's name.
Kansas Department of Wildlife and Parks officers began working with federal agents in Kansas and Colorado on the case after more than a dozen WildCare volunteers wrote letters questioning the quality of animal care at the rehabilitation facility and challenging management decisions made by Schwarting.
"We are working with the Fish and Wildlife Service," said Rob Ladner of the state wildlife department. "It's our job to determine what is a valid complaint."
He said some complaints may be the result of personality conflicts.
State and federal authorities say no timeline has been established for completing the investigation.
WildCare's permits remain active, and the organization continues to receive a full range of injured, sick or orphaned wildlife.
Schwarting didn't return numerous telephone calls during the past two weeks for comment.
Signs of trouble
Carol Bonebrake, a Topeka attorney and longtime WildCare volunteer, said in a statement the organization was cooperating with authorities. She also said all was not well at WildCare.
"Like all volunteer organizations, we have challenges that come with managing volunteers," she said. "Sometimes we rely on volunteers to take care of matters that don't get taken care of. Sometimes we have paid staff we rely on to take care of matters that don't get taken care of."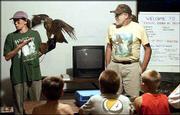 She said the organization's board of directors was being reconstituted.
Joe Collins, who resigned as WildCare board president earlier this year, said Schwarting had been running WildCare without an active board.
"Frankly," he said, "I just signed things when I was told to."
Jill Benson, a former WildCare volunteer living in Kansas City, Kan., said many volunteers had quit WildCare because of conflicts with Schwarting. She said the WildCare director micromanaged every aspect of the organization, which caused unnecessary suffering for injured animals.
"We were reprimanded if we went outside of the organization to get any information," Benson said.
She said a group of volunteers appealed to WildCare leaders, Kansas University officials and others to bring about change at the organization before contacting state and federal authorities.
"We feel we've given the feds enough reason to be concerned that ... birds are not getting the best of care," she said.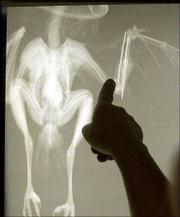 Past problems
About 10 years ago, WildCare was investigated by government officials for running afoul of regulations for the care and treatment of wildlife.
In 1992, state officials confirmed Schwarting illegally transported wildlife to out-of-state facilities. Volunteers at WildCare also charged at the time that Schwarting's management mistakes had contributed to the death of wildlife.
No disciplinary action was taken against WildCare, but KU announced it would sever ties to the organization because of budget problems.
WildCare vacated space in Malott Hall on campus and moved to a farm about 10 miles east of Lawrence owned by the KU Endowment Association.
WildCare, with Schwarting as director, has been there ever since.
Operation WildLife
The U.S. Fish and Wildlife Service decided to send the nine confiscated birds to Operation WildLife, which is a rehabilitation and education center north of Eudora.
It's mission is similar to that of WildCare. Both are nonprofits that work to return sick, injured and orphaned animals to the wild. Operation WildLife and WildCare have permits to retain birds of prey for education programs, which are frequently used to raise funding for rehabilitation.
Diane Johnson, founder of Operation WildLife, said the WildCare birds brought to her facility about a month ago were suffering from nutritional maladies.
A barred owl with a vitamin deficiency as well as the turkey vulture that couldn't walk correctly were euthanized. A red-shouldered hawk's wing had been permanently disabled because WildCare staff left two small pins in its injured wing about four weeks longer than necessary.
"The wing is frozen," said Johnson, who started Operation WildLife about 10 years ago. "It will never move again. It can't be released."
Three of the owls from WildCare have been rehabilitated to the point they were released by Operation WildLife staff, she said. Four animals are still in her care.
Johnson said she hadn't been aware WildCare was struggling to properly care for its animals, and can't understand why Schwarting didn't seek Operation WildLife's assistance.
"You can't be afraid to ask," she said. "It's the animals who pay the price when you don't take care of them."
Copyright 2018 The Lawrence Journal-World. All rights reserved. This material may not be published, broadcast, rewritten or redistributed. We strive to uphold our values for every story published.