Las Vegas — In the week leading up to Kansas University's football game at Nevada-Las Vegas, the Jayhawks repeatedly compared UNLV's Jason Thomas to Seneca Wallace of Iowa State.
They were correct in at least one respect KU's defense couldn't stop either quarterback.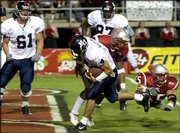 A week after Wallace led Iowa State to a 45-3 rout in the season opener at Ames, Iowa, another fleet-footed, strong-armed quarterback was too much of a challenge for KU's defense.
Thomas completed 12-of-32 passes for 144 yards and one touchdown and ran nine times for 74 yards and two TDs Saturday night in UNLV's 31-20 victory at Sam Boyd Stadium.
"He's a remarkable athlete," KU coach Mark Mangino said. "We gave him too many opportunities to make plays."
It didn't start out that way.
Thomas, who turned the ball over four times in UNLV's season-opening loss to Wisconsin, misfired on his first three passes. In fact, neither team completed a pass until UNLV fullback Steven Costa pulled in a 12-yard reception with 7:16 left in the first quarter. Prior to that, six passes had hit the ground.
UNLV dominated the early going as KU lost nine yards on 13 first-quarter plays.
The Rebels took advantage of good field position while jumping to a 14-0 lead. After KU's Curtis Ansel shanked a punt, UNLV took over at its own 47 and proceeded to run over Kansas. Joe Haro carried five times for 33 yards, including his nine-yard touchdown run midway through the first quarter.
Haro finished with 105 of UNLV's 291 rushing yards.
KU squandered its first scoring chance after Gary Cook shanked a 13-yard punt to the Vegas 34. The Jayhawks advanced to the 14 with help from one of three pass interference calls against UNLV in the half, but Johnny Beck missed a 32-yard field-goal attempt with the wind.
On KU's first drive of the second quarter, Vegas forced the Jayhawks to punt from their own 8. UNLV needed only four plays to score. Thomas ran in from six yards out to make it 14-0 with 9:25 left in the half.
KU lost nine yards on 13 plays in the first quarter before the Jayhawks picked up 127 yards in the second quarter.
Kansas answered UNLV's score with an 80-yard drive that took only seven plays and 2:03. KU quarterback Bill Whittemore, making his first start, completed a 17-yard pass to Mark Simmons, then took off on an 18-yard run on the next play. Clark Green's 21-yard scamper and a pass-interference call on UNLV set up a two-yard TD run by Whittemore.
"He got a feel for what they were doing on defense," Mangino said of Whittemore's second quarter. "We basically took what they gave us."
Whittemore, who passed for 225 yards, hurt UNLV with the option, gaining 33 yards on seven carries in the quarter.
The Jayhawks forced UNLV to punt, then mounted a 14-play, 67-yard drive that ended with Beck's 30-yard field goal with 18 seconds left in the half. UNLV's third pass-interference penalty kept the drive alive on third-and-long.
UNLV took control, though, scoring on its first drive of the third quarter. Dillon Pieffer's 44-yard field goal his first of the year made it 17-10.
KU denied Pieffer a second field goal on UNLV's next drive when Greg Cole blocked his 26-yard attempt.
The Rebels weren't done, though. Thomas completed a 34-yard bomb to Earvin Johnson on UNLV's next drive to set up the quarterback's own 19-yard touchdown run.
"We contained him for a while," Cole said, "but he started scrambling a little bit and it built his confidence up for him. That's a problem with a good quarterback you let him build momentum and they're going to hurt you in the end."
Running back Larry Croom picked up 49 of his 88 yards on UNLV's first drive of the fourth quarter, setting up Thomas' two-yard TD pass to fullback Steven Costa.
After netting only 10 yards in the third quarter, KU gained 166 in the final 15 minutes. Whittemore completed a 39-yard pass to Brandon Rideau, which set up a 27-yard field goal by Beck.
KU forced UNLV to punt on its next drive, and the Jayhawks finished with a 12-play, 93-yard drive that took only 3:27. Whittemore completed 8-of-10 passes on the drive, capped by his 23-yard TD pass to Marcellus Jones with 45 seconds left.
"Our kids don't quit," Mangino said. "Our kids played until the final gun, and I'm proud of that."
KU plays host to Southwest Missouri State on Saturday in its home opener.
"We made some improvements in some areas, but we didn't play well enough to win," Mangino said, "and we didn't deserve to win."
Copyright 2018 The Lawrence Journal-World. All rights reserved. This material may not be published, broadcast, rewritten or redistributed. We strive to uphold our values for every story published.