Miami — Breakfast in bed. Three-cheese pizza delivered to the Royal Suite.
But wait what's up with the complimentary chew toy?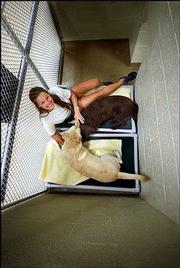 Pet resorts with gourmet treats and pools shaped like dog bones are the newest trend nationwide. Miami Beach, Aventura and Hollywood are among the South Florida cities boasting posh pet resorts; another one is set to open next month in Davie.
Hundreds of kennels across the country have retooled their facilities and image in the past 10 years, says Jim Krack, executive director of the American Boarding Kennels Assn. in Colorado Springs, Colo.
The reason for the growth in the upscale kennel market? People who treat their pets like members of their family.
"The people who don't have children and who have money are willing to spend a lot of money on their pets," said architect Mark Schmidt, who specializes in designing pet resorts, animal shelters and veterinary hospitals. "They are in love with their animals. There is no doubt about it."
More than half of all U.S. households have a dog, a cat or both 135 million pets, according to the Washington, D.C.-based Pet Food Institute, a trade association representing dog and cat food manufacturers. The boarding industry is worth more than $1.5 billion a year, according to the American Boarding Kennels Assn.
At traditional kennels, boarding a dog can cost between $7 and $30 a day, with an average daily charge of $14.76, according to the kennels association. Cat care costs an average of $9 a day. The luxury pet resorts offer more services and typically charge more as well.
Eddie Tate, who lives in Northwest Miami, boards his 2-year-old miniature schnauzer, Bruiser, at least twice a year at Aventura Animal Hospital & Pet Resort, which opened almost five years ago. He describes Bruiser as his "heart" and says he will spend whatever he has to. A recent five-day stay with a checkup cost $224.50.
"It's just like taking your kids someplace," Tate said.
Naturally luxurious
A cross between Doggy Disney and Elizabeth Arden, Hollywood's Bark Ave Pet Resort boasts chicken- and peanut-butter-flavored bubbles wafting through the air.
Everything is natural, from the filtered water that pets drink to the natural lighting and the soap, made with olive and coconut oils, that is used for their baths.
Services include pet pickup in the resort's 14-passenger van, where movie offerings include "Lady and the Tramp," "101 Dalmatians" and shows from "Animal Planet."
"They are not cooped up all day," said owner Ron Funt. "They enjoy supervised play with other dogs of their size. At night, they enjoy large suites with tiled floors and animal-print beds."
The $250,000, 10,000-square-foot resort offers an array of settings for pets: Bark Place, an indoor dog park; The Plaza, equipped with a playground for puppies; Broadway, with couches for older dogs; and The Purrfect Inn for felines, which features kitty condos and a hammock.
In the massage room, an acupuncturist uses lasers and needles to help pets that have aches and pains. And the "unique boutique" offers designer dog collars from France. Price range: $23 to $100.
Boarding prices range from $25 a night for dogs 50 pounds and under to $30 a night for dogs weighing more than 50 pounds. Cat boarding costs $15 a night.
In the swank South Beach Animal Hospital on West Avenue, the prices are higher at $32 a night, but the lodging is over the top. Dogs can stay in suites with cable television, raised beds, toys and night lights.
'It's just a hotel'
The latest to join the luxury pet resort trend: Tail End Pet Resort & Spa in Davie, which plans a grand opening this month. The 15,000-square-foot, $1.6 million facility, on a rural, tree-lined road, already is drawing interest from passersby who stop to gawk and ask for tours of the two-story Mediterranean-style building, with its green barrel-tile roof and French doors.
The resort has a health club and spa, and offers pet massages. Pets can also engage in group play and get chauffeured to and from the resort.
"You can have pizza delivered to your dog's suite and breakfast in bed," said Marni Blum, one of the three owners.
Copyright 2018 The Lawrence Journal-World. All rights reserved. This material may not be published, broadcast, rewritten or redistributed. We strive to uphold our values for every story published.