When it comes to fighting terrorism, chalk up a victory for Kansas University.
One year after the Sept. 11 terrorist attacks on the United States, Lawrence business leaders say the affects on the area economy were not as severe as they could have been, thanks to the presence of the university.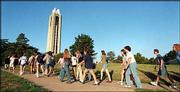 "Consumer spending sort of drives the economy in a community like Lawrence," said Chuck Warner, president of U.S. Bank in Lawrence. "In that regard, the students and staff of the university have been a very stabilizing factor for the Lawrence economy forever, and that was the case after the attacks too."
Earl Reineman, vice president of Weaver's Department Store in downtown Lawrence, credits the university's presence as a major reason why the store suffered only a "slight" slowdown in the year after the attacks.
National studies show consumer spending held up relatively well in the months after last Sept. 11, but Reineman said he suspected it did better in Lawrence because a significant portion of the city's consumers are college students who generally weren't watching their disposable income vanish in a declining stock market.
"I think the retail sector, almost like all business sectors, has experienced a bit of a slowdown in the past year," Reineman said. "But we really feel that ours was minimal compared to most. I think it goes back to the idea that the Lawrence economy always has been insulated from severe ups and downs because of the university's presence."
Hardest-hit sector
That may have been most evident in the lodging sector. Most national numbers indicated tourism and lodging was among the hardest hit by the attacks. Lawrence Chamber of Commerce President Bill Sepic estimated it may have been the sector hardest hit in Lawrence by the aftermath of 9-11.
Heidi Champagne, general manager of Lawrence's Hampton Inn, agreed the industry suffered after the attacks, but said she was glad to be in Lawrence to ride out the tough times.
"The Lawrence lodging business took its fair share of the hit," Champagne said. "We didn't reach any of the numbers or goals we were shooting for during the fourth quarter of last year, but it could have been so much worse."
It wasn't worse, Champagne said, mainly because life went on for the university and the activities associated with it. The hotel managed to sell out for every home football game last year, and didn't suffer a drop in business generated by KU seminars, continuing education events or from parents visiting their children. As a result, unlike other hotels across the country, the Hampton Inn didn't reduce employment or cut hours for its staff.
"If anything holds true in this city, it is the university," Champagne said. "Business goes on as usual for the students."
Sepic said the performance of the economy goes to show the benefit of having the city's largest economic driver be a stable industry like higher education rather than a cyclical industry, like the aviation industry in Wichita.
"Education always has been paramount on people's minds and high on their priority lists," he said. "September 11 did nothing to change that. It will take a lot more than 9-11 to affect enrollment or lessen people's desire to go to school and gain knowledge. That's a tremendous benefit to us."
Not unscathed
But there were losses in Lawrence. At least two businesses directly blamed Sept. 11 for job cuts or relocations during the past year. About two weeks after the attacks, Maupintour Inc., a Lawrence-based escorted tours business, laid off a dozen employees. The move came after a shutdown of U.S. air traffic had brought to a halt much of the company's business.
By late October the company announced it was leaving Lawrence, its home for more than 50 years. It consolidated operations with its parent company in Las Vegas in an attempt to cut operating expenses. Company officials said their travel business had plummeted by 30 percent since the 9-11 attacks. The move forced 39 Lawrence employees to move or find new jobs.
In November, Honeywell International laid off 40 employees at its Lawrence avionics plant. A Honeywell spokesman blamed the job cuts on an "abrupt downturn in the aerospace industry," fueled in large part by the attacks and the resulting decline in air travel.
Other large Lawrence employers suffered as well. Sprint PCS in May closed its Lawrence call center in an effort to reduce operating costs. The closure of the downtown facility left about 500 people without jobs.
And just last month, Davol Inc. said it would begin the process of closing its Lawrence medical device manufacturing plant, a loss of about 130 jobs.
A new mindset
Sepic said the loss of Sprint PCS and Davol probably were not directly related to Sept. 11, but probably are examples of a new mindset that took over corporate America after the attacks.
"Business leaders became more conservative almost immediately because they didn't know what the future had in store for them," Sepic said. "Prior to that we had come off the longest growth period in the history of the economy. During that time you could make decisions about the future because you felt you knew the future.
"All that changed with Sept. 11. I don't want to make it sound so extreme as a survival mode, but businesses became much more frugal. I think that's what we've seen here."
The loss of jobs from companies like Sprint and Davol has been complicated by the fact businesses across the country automatically put on hold all plans for expansion or relocation, said Lynn Parman, vice president of economic development for the Lawrence Chamber of Commerce.
"September 11 had a dramatic affect on economic development," said Parman, who was working in economic development in St. Joseph, Mo., at the time. "It essentially brought site searches to a screeching halt."
Investor pain
The economic pain hasn't been limited to companies. Individual investors saw the Dow, which was hovering around the 10,000 range in Sept. 2001, drop by more than 14 percent in the week following the attacks. By November, the markets were trading at pre-attack levels.
But then came the Enron and WorldCom scandals. By July the Dow had fallen to a low of 7,702. Luke Middleton, an economist with KU's Policy Research Institute, said the current stock market slump had more to do with those scandals and an already weak economy than Sept. 11.
"The stock market was going to have a rough time regardless of Sept. 11," Middleton said. "We were just too optimistic about stocks. It was a bubble that had to burst, but it may be fair to say Sept. 11 was what finally burst the bubble."
Ryan Catlin, a Lawrence investment advisor with Edward Jones, said investors probably have learned from events of the past year.
"After an event like this you have to step back and take a look at what you're doing," Catlin said. "But I think a lot of people are realizing their long-term goals are still the same.
"They understand it is not a good idea to jump off the train while it is moving. You still have to get from one point to the other."
Slow recovery
The biggest question for the Lawrence economy may be whether the area is done feeling the effects of 9-11.
Most area economic leaders said they thought the worst was over, but that a recovery wouldn't be quick.
Middleton said the accounting scandals on Wall Street have done the most to slow the recovery, and now talk of a war with Iraq also has slowed the pace of a turnaround.
"It (an attack on Iraq) may be good for the nation's future, but Wall Street would rather not hear about it.
"I think here in Lawrence we still have a ways to go before we're back to normal. It may not get a lot worse, but it may be a while before it gets better."
Copyright 2018 The Lawrence Journal-World. All rights reserved. This material may not be published, broadcast, rewritten or redistributed. We strive to uphold our values for every story published.