Kansas City, Mo. — Bret Boone is making up for a slow first half in time to help the Seattle Mariners make a playoff push.
Boone drove in four runs as the Seattle Mariners tried to keep pace in the AL West with a 9-2 victory against the Kansas City Royals on Saturday night.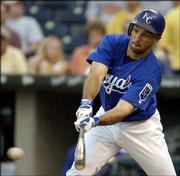 Boone has driven in 42 runs since the All-Star break, giving him 96 on the season far short of his league-leading total of 141 last season.
"If I drive in 110-115, considering how I started out the first three months, I'd be very happy with that," Boone said. "If I do that, it's going to help our team. It means I had a strong September."
Seattle remained six games behind division-leading Oakland, which has won 21 of 22 contests. The Mariners trail Anaheim by four games in the AL wild-card race. The Angels have a nine-game winning streak.
Edgar Martinez and John Olerud walked with two outs in the third against Miguel Asencio (3-5) and scored on Boone's triple to right-center to give the Mariners a 3-1 lead.
Boone's RBI groundout scored Martinez in a three-run seventh. Ben Davis added a two-run single in the inning.
Boone, who had three RBIs Friday, added an RBI single in the eighth. Since the All-Star break, Boone is batting .357 with 42 RBIs in 55 games.
Desi Relaford, who doubled twice in the game, scored on the play.
"It is good to see our offense is putting runs on the board," Mariners manager Lou Piniella said. "That's what we're going to need the rest of the way."
Mariners starter Ryan Franklin (6-3) allowed two runs and six hits in 52*3 innings for the victory. Franklin retired 11 straight between Angel Berroa's double in the second and Carlos Beltran's double in the sixth.
"I felt good about my game plan and Ben Davis did a great job calling back there, and we came out with a win," Franklin said. "I thought I had my A-game stuff tonight."
Raul Ibanez drove in both Royals runs, giving him 98 RBIs on the season. Mike Sweeney went 1-for-4 for Kansas City, dropping his American League-leading average to .342.
The Mariners manufactured a run in the fourth, which Mike Cameron led off with a single, stole second and third, and scored on Jeff Cirillo's sacrifice.
The Mariners increased their lead to 5-1 with an unearned run in the sixth. Jose Offerman led off with a triple to the right-field corner scored on Joe Randa's throwing error.
Relaford doubled in the first, advanced to third on Martinez' fly out to center and scored on Asencio's wild pitch. Asencio allowed five runs four earned and six hits in five-plus innings.
Mike MacDougal, who was making his fourth big league appearances and his first since last October 3, and Jeremy Hill, who was making his big league debut, followed Asencio, a Rule 5 draft pick who pitched in the Class A Florida State League last year to the mound. The three combined to give up eight runs on nine hits and six walks over seven innings.
"We have to be patient until we find a way to be consistent," Royals manager Tony Pena said.
Notes: The Mariners lead the majors with 60 sacrifice flies. Jeff Suppan, who starts Sunday for the Royals, has lost a club record eight straight starts. Suppan has an 8.46 ERA during his losing skid. Tom Gordon holds the club record with 10 straight losing decisions in 1991-92. The Mariners are 14-15 on the road since the All-Star break. They were 28-13 on the road before the break. The Royals have committed an error in six straight games, totaling 14 in that span. They have been charged with 118 errors, one more than they made all last season. The Royals have allowed 35 runs in the past three games.
Copyright 2018 The Associated Press. All rights reserved. This material may not be published, broadcast, rewritten or redistributed. We strive to uphold our values for every story published.