Norman, Okla. — The first game between Oklahoma and Alabama since 1970 proved to be worth the wait.
Capping a wild second half that saw Alabama rally from a three-touchdown deficit, the second-ranked Sooners scored two touchdowns in the final three minutes to win, 37-27, Saturday.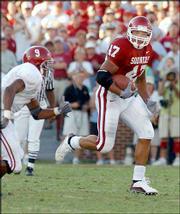 Kejuan Jones' 8-yard run with 2:11 remaining capped an 80-yard drive that gave the Sooners a 30-27 lead. With 24 seconds left, safety Eric Bassey picked up a fumble and returned it 45 yards for the clinching score.
"I like the attitude of our players, when they had to, to come together," coach Bob Stoops said. "They really showed determination and made plays when they had to. A lot of teams don't do that."
It was just the third meeting between teams that have combined for 13 national titles Oklahoma has seven, Alabama six and the first in the regular season. They had previously played in the 1963 Orange Bowl and the 1970 Astro Bluebonnet Bowl.
The Sooners (2-0) seemed to have control after taking a 23-3 halftime lead, but Alabama (1-1) rallied with three touchdowns and a field goal in the second half.
Alabama had said this was just the game No. 2 on the schedule and not like a bowl game for a program on probation. But it proved to be much more than that.
The Crimson Tide had 224 of their 288 yards after halftime, and their defense stifled Oklahoma until the Sooners' final drive of the game.
"We should have won the ballgame. We could have won the ballgame," coach Dennis Franchione said. "We dominated pretty good in the second half, but like a true champion, Oklahoma made one more play today."
The Sooners lost quarterback Jason White late in the first quarter when he tore a ligament in his right knee. He was replaced by Nate Hybl, who started 11 games a year ago.
Hybl threw for 162 yards and a touchdown in the first half, and also scored from 1 yard out.
Missouri 41, Ball State 6
Columbia, Mo. Quarterback Brad Smith ran for 105 yards, including a 39-yard touchdown scramble, and threw for another score to lead Missouri.
Zack Abron had two of his three short touchdown runs in Missouri's 27-point third quarter. The Tigers, who led just 7-6 at halftime, are 2-0 for just the fourth time since 1983.
Marcus Merriweather led the Cardinals (0-1) with 115 yards on 26 carries.
Missouri, which upended Big Ten champion Illinois last week, forced four fumbles and got two touchdowns off turnovers.
Smith finished with 176 yards on 14-of-27 passing Saturday. On his TD run, Smith skirted the sideline and shook a would-be tackler before reversing field and barreling in for the score.
Abron, who finished with 75 yards on 15 carries, and Smith were replaced early in the fourth quarter with Missouri in control.
Baylor 50, Samford 12
Waco, Texas Sophomore Jonathan Golden scored a school-record six touchdowns as Baylor bounced back from a 48-point whipping by California. Golden scored four touchdowns in the first half on runs of 4, 1, 3, and 16 yards against the undermanned NCAA Division 1-AA Bulldogs (1-1) of Birmingham, Ala. Baylor (1-1) held a 30-0 lead at halftime and Golden kept rolling in the third period with a 17-yard touchdown run and a 28-yard scoring catch from Aaron Karas.
Iowa State 58, Tennessee Tech 6
Ames, Iowa Seneca Wallace threw three touchdown passes and Hiawatha Rutland ran for 138 yards and a TD as Iowa State cruised. As expected, Iowa State (2-1) had no trouble with the Division I-AA Golden Eagles (0-2) in what turned out to be little more than a tuneup for next Saturday's game at Iowa.
No. 20 Texas A&M; 14, Pittsburgh 12
Pittsburgh Texas A&M; needed two quarterbacks and two long completions to Terrence Murphy to open up a two-touchdown lead, and the Aggies held on with the help of a missed extra point. Derek Farmer scored twice on short-range runs for the Aggies (2-0).
Texas Tech 24, SMU 14
Dallas Kliff Kingsbury bounced back from a brief first-half benching to lead two long fourth-quarter touchdown drives for Texas Tech. Kingsbury finished 32-of-49 for 369 yards, giving him 8,122 career yards. He passed Robert Hall, who had 7,908 yards passing from 1990-93. The senior threw three touchdown passes and was intercepted twice.
No. 9 Nebraska 44, Utah St. 13
Lincoln, Neb. Quarterback Jammal Lord threw two touchdown passes and ran for two scores to lead the Cornhuskers. DeJuan Groce intercepted two passes for the second straight week and Dahrran Diedrick ran for 93 yards for the 'Huskers (3-0) in their best offensive game of the season.
No. 17 Colorado 34, San Diego St. 14
Boulder, Colo. Chris Brown ran for 185 yards and two touchdowns as Colorado overcame the loss of starting quarterback Craig Ochs, who departed at halftime with his third concussion in the last 14 months.
OSU 45, N. Iowa 10
Stillwater, Okla. Josh Fields threw two touchdowns and ran for another while Rashaun Woods caught nine passes for 175 yards to lead Oklahoma State over Northern Iowa. The Cowboys' defense produced five turnovers, including a 29-yard reception return for the go-ahead touchdown, as Oklahoma State (1-1) cruised past the Division I-AA Panthers coached by former Kansas University assistant Mark Farley in the Cowboys' home opener.
Copyright 2018 The Associated Press. All rights reserved. This material may not be published, broadcast, rewritten or redistributed. We strive to uphold our values for every story published.