Minneapolis — Mark Mulder pitched well enough to get Oakland back on the winning track.
Mulder pitched eight shutout innings Saturday night, outshining Minnesota's Joe Mays and leading the Athletics to a 2-0 victory over the Twins, a night after Oakland's AL record 20-game winning streak was stopped.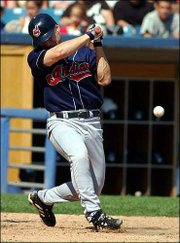 "The kid really can pitch," said Minnesota manager Ron Gardenhire. "He bears down, and he gets after you."
David Justice and Scott Hatteberg drove in runs for Oakland, which had the majors' longest winning streak in 67 years end with a 6-0 loss to Minnesota on Friday.
But Mulder (17-7) struck out 10, won his fourth straight start and silenced the Metrodome crowd of 43,628 to put the A's back in the win column. Five of the Twins' seven hits off Mulder were infield singles, and he didn't walk anybody, either.
"I wanted to try to make a statement to get this losing streak to an end," Mulder said, "and start a new winning streak."
The Twins spoke a little more emphatically.
"Coming off the loss, I'm sure he was a little extra pumped up tonight," said Dustan Mohr, who was 0-for-3
Billy Koch pitched a perfect ninth for his 38th save in 44 chances to keep Anaheim from gaining any ground. Even with those 20 straight victories, the A's began and finished the day only two games ahead of the Angels.
Mays (3-6) pitched almost as well as Mulder, but he allowed RBI singles to Justice in the second and Hatteberg in the eighth inning. Mays gave up two runs one earned and five hits in 7 1/3 innings.
The A's scored in the second when Jermaine Dye reached on a two-base throwing error on shortstop Cristian Guzman and scored on Justice's slow-rolling single up the middle. After that, Mays retired 18 of the next 20 batters until the eighth.
Angels 4, Orioles 2
Baltimore Tim Salmon hit a go-ahead single in the 10th inning and the Angels extended their winning streak to a season-high nine games.
David Eckstein led off the game with a home run and Brad Fullmer later connected for Anaheim. The Angels moved a franchise-best 33 games over .500.
With one out in the 10th, Jorge Julio (5-6) walked Troy Glaus. Pinch-runner Chone Figgins stole second and scored on Salmon's liner to left-center.
Salmon took second on the throw home, and pinch-runner Alex Ochoa scored on Adam Kennedy's double down the right-field line.
Ben Webber (6-2) pitched 1 1/3 innings of perfect relief for the victory.
Tigers 2, Yankees 1
New York Omar Infante lined a tiebreaking single in the eighth inning for his first major league hit, lifting the Detroit Tigers over Mike Mussina.
Eric Munson, also recalled from the minors earlier in the day, homered into the Yankee Stadium upper deck as the Tigers won for just the third time in 17 games.
Franklyn German (1-0) pitched 1 1/3 scoreless innings in his big league debut.
Alfonso Soriano slugged three hits, stole his 40th base and picked up his 90th RBI for the Yankees, who had their four-game winning streak snapped.
Mussina (16-9) matched a season high with 10 strikeouts.
Indians 4, White Sox 2
Chicago Karim Garcia hit a two-run homer and Bill Selby also homered.
C.C. Sabathia (11-10) pitched four-hit ball for eight innings, matching a career high for his longest outing.
Sabathia struck out five and walked two in winning for the fifth time in six decisions.
Red Sox 4, Blue Jays 1
Boston Casey Fossum combined with three relievers on a three-hitter, and Manny Ramirez had a homer and three RBIs.
Fossum (4-3) recorded his first six outs by strikeout, a streak that was interrupted by Tom Wilson's solo homer that gave Toronto a 1-0 lead in the second inning. He struck out nine while holding Toronto to three hits in six innings.
Wayne Gomes, Alan Embree and Ugueth Urbina each pitched a perfect inning in relief.
Rangers 11, Devil Rays 2
St. Petersburg, Fla. Texas tied a major league-record by homering in its 25th consecutive games when Herbert Perry hit a three-run shot in the third inning .
The Rangers joined the 1941 New York Yankees, 1994 Detroit Tigers and 1998 Atlanta Braves in accomplishing the feat.
Perry went deep on a 1-0 pitch from Victor Zambrano (6-7). The opposite-field drive put Texas up 5-0. Perry added a two-run shot in the seventh.
Copyright 2017 The Associated Press. All rights reserved. This material may not be published, broadcast, rewritten or redistributed. We strive to uphold our values for every story published.