Kandahar, Afghanistan — Azimullah Khaksar's goal in life was to serve his country. With his death, he got what he wanted. He had saved the president's life.
The 19-year-old died Thursday trying to disarm a gunman during an assassination attempt on Hamid Karzai. The president was uninjured, although a bodyguard and the attacker also were killed.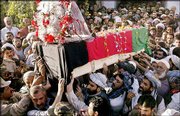 The attack happened as the president, in town to attend his youngest brother's wedding, finished a tour of the governor's palace, which is under renovation.
Hundreds of people were pressed against the palace gates to see Karzai's convoy when the attacker, a recently hired security guard, stepped forward to fire several rounds into the presidential vehicle.
Television pictures showed Khaksar shoving the assassin to the ground before both were hit by a hail of gunfire from Karzai's American bodyguards. An Afghan bodyguard also was shot and killed in the melee.
"He was the only person who reached forward to shake Karzai's hand. He wanted to kiss his hand," said Khaksar's brother, Hikmatullah, in recounting what witnesses told him. "Then the assassin opened fire, and he jumped on him."
Saturday, Azimullah Khaksar received a hero's funeral at the Ahmed Shah Baba Shrine, reserved for the country's martyrs, across the street from the governor's palace where he died.
His coffin, carried to the shrine on a tank, was draped in an Afghan flag. His brother carried his portrait, inscribed with his name and the label "shaheed" martyr.
The 500 people who attended included the town's mayor, the army chief and Gov. Gul Agha Sherzai, making his first public appearance since Thursday's attack in which he was grazed by a bullet.
With his head wrapped in a white bandage, Sherzai talked with the Khaksar family, vividly describing the attack and thanking them for their son's sacrifice.
Security was heavy around the governor, with armed soldiers lined up around the shrine's perimeter walls.
A day earlier, Karzai, who returned to Kabul, paid tribute to Azimullah Khaksar, saying, "That is the man who tried to save my life. ... He was killed in the cross fire."
Azimullah Khaksar's family retrieved his body Saturday morning from Mir Wais Hospital. Earlier, dozens of men, some weeping quietly, sat alongside his funeral bed at the Husania Mosque. A giant wreath of plastic roses was placed at the head of it.
Azimullah Khaksar's father bent over in grief near his son's body. Through the walls, keening wails came from the women's section of the mosque.
The family did not know where Azimullah Khaksar was until Saturday, Hikmatullah Khaksar said.
Thursday, after hearing the president was in town, Azimullah Khaksar closed his antiques shop early and put on his best clothes, telling his family he wanted to catch a glimpse of Karzai.
When he did not return home that evening, they assumed he went out with friends. Alarmed when he was still absent Friday, they began checking with police.
After hearing about the attempt and the three men killed during it, the family finally went to the hospital late Friday but were refused permission to see the body.
"I thought then that maybe it was my brother," Hikmatullah Khaksar said.
After the governor interceded, the family was able to retrieve the body for burial.
Hikmatullah Khaksar said his brother was extremely patriotic.
"After the fall of (former-Soviet-installed President) Najibullah, he had wanted to go to Kabul to join the army and help his country. That was his wish always. But the family didn't want him to leave, so he stayed," he said.
Friends said Azimullah Khaksar continued to talk about entering military service.
Pulling out a picture of Azimullah Khaksar at a recent picnic, 17-year-old Bilal Ahmed said his friend often would tell him, "If the government is stable, we should both join the army and serve our country."
With a rueful shake of his head, Ahmed added, "He did serve his country."
Copyright 2018 The Associated Press. All rights reserved. This material may not be published, broadcast, rewritten or redistributed. We strive to uphold our values for every story published.