Pittsburgh — Mark Farris finally gets to play in Pittsburgh today, only the setting and the sport won't be what he might have expected eight years ago.
Instead of playing nine innings, he'll be playing four quarters. Or at least he hopes he'll be playing four quarters, because Texas A&M; coach R.C. Slocum might have a different idea.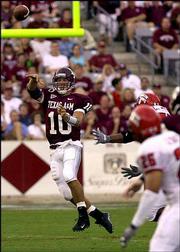 Farris is expected to start for the No. 20 Aggies against unranked Pittsburgh in a game in which both schools already have quarterback debates only one game into their seasons. The question in Aggieland, though, is whether he will finish.
Farris was a highly recruited quarterback at Angleton (Texas) High School who originally signed with Texas A&M;, only to be persuaded to play baseball when the Pittsburgh Pirates made him the 11th overall pick in the June 1994 draft.
After five seasons in which he never advanced above Double-A, Farris gave up baseball and decided to return to football. His decision was partly influenced by watching Chris Weinke, another former minor leaguer who returned to football in his mid-20s, play for Florida State against A&M.;
Think the Pirates aren't second guessing their decision to draft Farris? With the next pick after Pittsburgh's in that 1994 draft, the Boston Red Sox drafted another shortstop who turned out to have a much better career a guy named Nomar Garciaparra.
Now, the second guessing is going on at A&M;, where the debate is whether Slocum should keep playing the 27-year-old Farris, a three-year starter, or turn to 18-year-old freshman Reggie McNeal.
Despite needing only 131 yards to reach the 5,000-yard passing mark in his career, Farris has as many career interceptions (18) as he does touchdown passes, and the Aggies have lost four of seven game since their 5-0 start last season. Farris also heard boos during A&M;'s 31-7 victory over Louisiana-Lafayette last Saturday as he threw eight straight incompletions during a 13-for-32 night.
During that game, Slocum made a surprise move by playing McNeal, who was expected to red-shirt because A&M; had two sophomore backups.
Since then, Slocum hasn't exactly guaranteed Farris will start the rest of the season, nor has he downplayed talk that McNeal's future might arrive a lot sooner than was anticipated.
"My intention has always been to play the player who gives us the best chance to win and we will continue to do that," Slocum said. "Competition brings out the best in people and there is certainly nothing wrong with bringing the best out in your quarterback position."
Pitt's opener, a lethargic 27-14 victory over an Ohio team coming off a 1-10 season, didn't exactly bring out the best in new starting quarterback Rod Rutherford.
The red-shirt junior was intercepted three times and was pulled briefly in the second quarter for freshman Tyler Palko, a former Pittsburgh high school standout.
Despite Rutherford's uneven outing, Pittsburgh coach Walt Harris is trying his best to hush up any speculation there will be a season-long QB competition, saying Rutherford's experience easily makes him the best player for the job right now.
Of more pressing concern to Harris is A&M;'s 3-4 defense, the same scheme Ohio used to confuse Pitt in one of the Panthers' weakest offensive efforts in Harris' six years as coach.
"They've got a lot bigger fellows playing the 3-4 than Ohio did," Harris said.
Copyright 2018 The Associated Press. All rights reserved. This material may not be published, broadcast, rewritten or redistributed. We strive to uphold our values for every story published.