Washington — Senators backing a national child abduction alert system said Tuesday that they predict quick passage.
Sens. Kay Bailey Hutchison, R-Tex., and Dianne Feinstein, D-Calif., introduced the Amber alert bill, which would set up a national network for distributing alerts when a child is abducted. They were joined by Sen. Orrin Hatch, R-Utah, ranking member of the Senate Judiciary Committee, which has jurisdiction over the bill.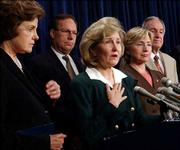 A hearing was scheduled for 10 a.m. today before the Judiciary subcommittee chaired by Feinstein, and the full committee could vote on the bill Thursday.
"There's no excuse for it not being passed almost immediately," said Hatch. Feinstein and Hutchison said Judiciary Committee chairman Sen. Patrick Leahy, D-Vt., supports moving the bill quickly to a vote.
The legislation would create a Justice Department coordinator to decide when to send multistate alerts on child abductions. Seventeen states and some cities and towns already have the "Amber alerts," named after a 9-year-old Texas girl, Amber Hagerman, who was abducted and murdered in 1996.
"Most people in the field of child disappearances believe that the first 24 to 48 hours is very critical either you get that child back in that period of time or the likelihood of getting the child back diminishes dramatically," Feinstein said. "This is where Amber alert comes in."
The lawmakers said "Amber" is also an acronym for "American Missing Broadcast Emergency Response." The alerts have been credited with several successful rescues of abducted children and teenagers this summer.
The systems rely on radio and television broadcasts and electronic traffic signs to distribute descriptions of suspects' vehicles and of the missing children.
Hutchison did not have a price tag for the coordinator position but said she would seek $25 million for grants to assist local communities. The grants would be handled by the Department of Transportation.
New York plans to take its Amber alert network statewide Thursday, making it the 17th state to adopt a statewide abduction alert plan. New York's system will also send information to tollbooth collectors, highway travelers and lottery terminals.
"We interrupt programming for weather alerts and we just expect that," said Sen. Hillary Rodham Clinton, D-N.Y. "Well, now we are going to be interrupting programming for child alerts, Amber alerts."
Copyright 2018 The Associated Press. All rights reserved. This material may not be published, broadcast, rewritten or redistributed. We strive to uphold our values for every story published.