Mexico City — Facing a country impatient for change, a humbled President Vicente Fox acknowledged Sunday that he still had work to do in achieving the sweeping reforms he promised two years ago when he toppled Mexico's entrenched political elite.
In his state-of-the-nation address, Fox admitted that he hadn't achieved as much as he had hoped less than two years into his six-year term.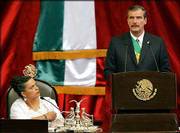 "In spite of the fact that we have moved forward, we aren't satisfied," Fox said in a speech that received occasional boos and hisses from lawmakers. "We would betray Mexicans' hopes for change if we felt satisfied with what we've accomplished so far. I'm the first person to admit that not all our goals have been achieved."
The speech followed sometimes harsh attacks from lawmakers who criticized his failure to fulfill promises to reform everything from migration to the tax system.
"Two years a third of the government's mandate and the change for which he was elected has not come," said Sen. Jesus Ortega of the opposition Democratic Revolution Party. "On the contrary, the situation of the country and of its people has worsened."
The Mexican president has been hurt by the U.S. economic downturn, the Sept. 11 terrorist attacks and his own inability to muster support in Congress something Fox admits he must work on.
He has said building a new relationship with Congress is his biggest priority. On Saturday, he met with leaders from Mexico's three main parties and urged them to help him change Mexico for the better.
Before his speech Sunday, lawmakers reminded the president of the tremendous expectations he generated on July 2, 2000, when he won elections over the Institutional Revolutionary Party, or PRI, which had governed Mexico since 1929.
He did so with the bluster of a braggart, promising to create 1 million jobs a year, increase gross domestic product by 7 percent annually and pledging to end a simmering rebel conflict in 15 minutes.
"We haven't seen a solution in 15 minutes, nor in his two years in office," Alberto Anaya of the Workers' Party said late Sunday, pointing out the lack of an accord with Zapatista rebels in southern Chiapas state.
Mexico has lost hundreds of thousands of jobs. And Fox has been forced to scale back his growth pledge first calling 7 percent a goal to be reached by the end of his term, then conditioning even that on the approval of all his reforms by Congress. GDP itself has been generally flat.
Yet Fox has maintained that his administration is on track. He cites the smooth transition of his presidency, comparing it to the devaluations and economic crises that accompanied previous handovers.
He says he has helped strengthen democratic institutions, citing the increasingly independent legislature, courts and elections board and laws giving the public greater access to government information and secret files.
But that very independence of the legislature has been the downfall of most of Fox's major proposals. Until the last few weeks Fox has flippantly ignored Congress which in turn has largely rejected his program for reform.
Many Mexicans say Fox needs to come around much more if he is going to help them before his term ends in 2006.
"He may be trying to change things, but his successes have been very few," said Valentin Gomez, 37, selling leather belts on a downtown Mexico sidewalk because rising rents drove him from his shop. "He talks about a lot of nice things, but we need to see results."
Copyright 2017 The Associated Press. All rights reserved. This material may not be published, broadcast, rewritten or redistributed. We strive to uphold our values for every story published.