Rex Walters knifed through the lane off a powerful dribble, attracted two defenders while in the air, then dished the basketball to the corner to a wide-open Aaron Miles.
Miles, Kansas University's sophomore point guard, accepted the bullet pass and did not hesitate, burying a three-pointer off the crisp assist from Walters, the former Jayhawk shooting guard.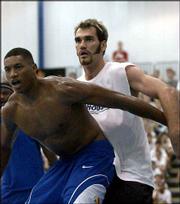 Miles' nothing-but-net swish ended one of many pick-up games involving current and former Jayhawks last Friday at Allen Fieldhouse.
"Good shot, Aaron!" yelled Walters, a 1993 KU grad who played seven years in the NBA and competed overseas and for the ABA's Kansas City Knights last year. "It's what I'm talking about.
"Jeff your man helped (on defense) I kicked out," Walters added, relishing his role of player/coach/confidant to pick-up teammate and KU red-shirt freshman guard Jeff Hawkins.
On Friday, Walters was by far the most vocal of five former Jayhawks during rigorous pick-up action on James Naismith Court. On other days, it might be NBA players Danny Manning, Jacque Vaughn, Scot Pollard or Drew Gooden doing the instructional woofing, or Billy Thomas and Steve Woodberry, two former Jayhawks also playing pro ball.
"I definitely do this to stay in shape, but hopefully they learn something from guys like Jacque and Scot, Steve Woodberry, Danny and hopefully myself," the 32-year-old Walters said. "As an alumnus and former player, you want to give back to the team. Hopefully I've given them a little bit of knowledge."
Giving back
"When I was in college and I played here in the summers, I was looking up to a guy like Danny," Sacramento Kings forward Pollard said of Manning, a 14-year NBA veteran. "The guys who'd come back to play sometimes I would just watch 'em. Danny would call me to the side and we'd work on a couple of things.
"I loved being able to say, 'I played with Danny the other day. He is my height and him doing the things he does is unbelievable.' I don't know if guys are saying that about me, but I'm sure they watch and see the physical presence I bring.
"Right now I am very out of shape," said the 265-pounder, "but they can at least watch me get position. If they are watching, that's what they'll get."
The current Jayhawks also are bonding with the former Jayhawks.
For instance, freshman walk-on forward Christian Moody walked toward teammate Pollard dejectedly after a loss, apologizing for a gaffe with the ball, only to hear Pollard say: "It wasn't your fault. You kept it alive. It was my fault."
Pollard explained his reasoning for not taking the youngster to task for a costly mistake.
"These guys all play hard. I don't have to motivate them," Pollard said. "It's like coach (Roy) Williams says all the time, 'I'd rather have them play hard and make a mistake than make a mistake playing soft and not trying.'
"If they are working hard, I'm encouraging them all the way to keep sweating, dive for the ball even if they lose it, because that's type of player I am."
No loafing allowed
Playing hard is a staple of KU basketball past and present, and the pick-up games are no exception.
"The games are very competitive, of course. Nobody wants to lose," KU senior Kirk Hinrich said after a busy day guarding and being guarded by Miles and the Orlando Magic's Vaughn. "Having the NBA players come back is great. There are so many great players out here that have accomplished so many things. It makes for a great game. It gets you nothing but better."
Former KU guard Jeff Boschee says playing against Vaughn and listening to Walters the past four summers, "definitely has made me a better player.
"It is one of the things that makes coach Williams' program what it is: NBA players come back and help make you better," Boschee added.
Losing teams in pick-up action sit until it's their turn to return.
You better believe they want to win and remain on the court.
"Yes," Pollard said, asked if he was miffed at sitting out after a loss, "because I need to run. I don't need to be sitting here in the heat. I need to run and sweat some more. Go hard or go home."
Copyright 2018 The Lawrence Journal-World. All rights reserved. This material may not be published, broadcast, rewritten or redistributed. We strive to uphold our values for every story published.