Indianapolis — Yao Ming may stand 7-foot-6, but he's already experiencing the growing pains most NBA rookies do.
Yao, the No. 1 overall pick in the June 26 draft, failed to score, had two rebounds, was called for three fouls and made little impact for the Houston Rockets in a season-opening 91-82 loss to the Indiana Pacers on Wednesday night.
"I learned that I still have a lot to learn, and I'm just a rookie," Yao said through an interpreter. "It's a very long road and it's difficult."
Jermaine O'Neal scored 24 points and had 10 rebounds and Ron Artest added 20 points for Indiana, which overcame a career-high 39 points from Houston's Steve Francis.
Yao played only in the second and fourth quarters, turning the ball over the first time he touched it when Jeff Foster stripped him of it, the first of his two turnovers. The Pacers led 71-62 at the start of the fourth quarter when Yao was reinserted for starting center Kelvin Cato, who grabbed a career-high 17 rebounds.
Yao missed his only shot, a turnaround 12-footer over Foster. He received mild applause from the crowd at Conseco Fieldhouse.
"I didn't feel good to sit on the bench and watch my teammates losing," Yao said. "Of course, I want to contribute."
Yao said he'd have to keep reminding himself that he would make mistakes like any rookie and still had to adjust to different rules and a faster pace.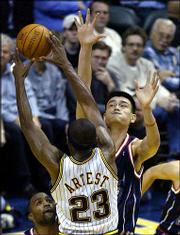 Coach Rudy Tomjanovich said it would take time for Yao to adjust to new surroundings.
"The guy's been here 10 days. He's just trying to get acquainted with our offense, our defense," he said. "We're happy with him. It's going to take some time get acclimated."
Francis, who was 13-of-28 from the field and made 12 of 14 free throws, scored 10 points in the fourth but couldn't get the deficit under double figures until the final minute. He said Houston needed to be patient with Yao's progress.
"It's only his first game," he said. "He didn't play particularly well. Sometimes that happens in your first game. It's a learning tool for him and also for us. We don't want to focus on what one guy did."
Cuttino Mobley added 22 points.
Mavs 119, Grizzlies 108
Memphis, Tenn. Steve Nash scored 24 points as Dallas beat Memphis, the NBA's highest-scoring team picking up right where it left off last season.
Michael Finley scored 21 points and Dirk Nowitzki had 20 points and 11 rebounds for Dallas. Nick Van Exel had 16 off the bench, ex-Jayhawk Raef LaFrentz 14 and Eduardo Najera 12.
Drew Gooden debuted with 16 points with Kansas University coach Roy Williams in the stands for support.
Blazers 102, Lakers 90
Portland, Ore. Rasheed Wallace scored 28 points to lead Portland to a season-opening victory against the shorthanded Los Angeles Lakers.
Already playing without Shaquille O'Neal and Rick Fox, the Lakers were further hobbled when they lost Kobe Bryant for several minutes in the first half after a hard fall. He returned and led the Lakers with 25 points and 10 rebounds.
Bulls 99, Celtics 96
Boston Trenton Hassell scored eight points in the final three minutes, helping the Bulls open the season with a victory against Boston.
Hassell scored 14 and Jalen Rose had 21 points and 12 assists for the Bulls, who won despite familiar poor free throw shooting from rookie Jay Williams.
Ex-Jayhawk Paul Pierce scored 28 for Boston.
Raptors 74, Wizards 68
Toronto Morris Peterson scored 20 points and Michael Jordan went scoreless in the second half and even missed a dunk as Toronto beat Washington. Jordan scored just eight points in 25 minutes off the bench.
The only positive for the new-look Wizards, who shot just 29.6 percent from the field, was the play of Kwame Brown, who had a career-high 18 rebounds, 12 points and five blocks.
76ers 95, Bucks 93
Philadelphia Allen Iverson had 28 points, including a go-ahead jumper in the final minute, leading Philadelphia.
Ray Allen scored 28 points for Milwaukee, but missed a long jumper and turned the ball over in the final minute.
Nets 105, Hawks 94
East Rutherford, N.J. Jason Kidd had 16 points, 12 assists and 8 rebounds, helping New Jersey beat Atlanta.
Kenyon Martin and Richard Jefferson added 15 points apiece.
Magic 100, Heat 86
Miami Orlando improved to 2-0 for the first time since 1993, taking advantage of Miami's sputtering offense. Tracy McGrady scored 24 points and Grant Hill added 17.
Miami offseason free-agent acquisition Travis Best shot 8-for-13 and scored 22 points.
Pistons 86, Knicks 77
Auburn Hills, Mich. Richard Hamilton scored 22 points in his Pistons debut and Detroit's depth wore down injury-depleted New York.
Allan Houston scored 31 and helped New York lead by as many as 12 in the first half, but he didn't have much help.
T'wolves 83, Nuggets 77
Minneapolis Newcomer Troy Hudson scored 23 points to lead banged-up Minnesota against Denver. Reserve Chris Andersen led Denver with 16 points.
Hornets 100, Jazz 75
New Orleans A hobbled but energetic Baron Davis had 21 points and 10 assists as the Hornets beat New Orleans' old team, the Utah Jazz.
Karl Malone and John Stockton, the two oldest players in the league, led Utah with 20 and 14 points.
Sonics 86, Suns 73
Seattle Brent Barry had eight of his 25 points in the fourth quarter and Gary Payton scored 20 for the SuperSonics.
Shawn Marion had 21 points and 11 rebounds to lead the Suns, who lost their opener for the fourth straight year.
Warriors 106, Spurs 98
Oakland, Calif. Antawn Jamison scored 36 points on 14-of-25 shooting and Jason Richardson added 22, helping Golden State defeat San Antonio. Tim Duncan had 24 points and nine rebounds for the Spurs.
Cavs 98, Clippers 96
Los Angeles Zydrunas Ilgauskas hit a turnaround 10-foot jumper with 2.8 seconds remaining, helping Cleveland beat the L.A. Clippers. Andre Miller had 15 points and 14 assists in his Clippers debut.
Copyright 2018 The Associated Press. All rights reserved. This material may not be published, broadcast, rewritten or redistributed. We strive to uphold our values for every story published.