Minneapolis — With poignant eulogies and furious rallying cries and nearly as much laughter as tears some 20,000 friends of Paul Wellstone bade the late senator a boisterous farewell on Tuesday.
The first eulogies were tender remembrances. But when it was time to recall Wellstone, who was locked in a tough re-election fight when he died, his friend and former student Rick Kahn adopted the late senator's fiery speaking style.
He chopped the air with his hands, as Wellstone often did, and exhorted the crowd to keep Wellstone's dream alive.
"A week from today, Paul Wellstone's name will not be on the ballot," Kahn said. "But there will be a choice just the same ... either keep his legacy alive, or bring it forever to an end!"
As the crowd erupted in a loud "No!" Kahn continued:
"If Paul Wellstone's legacy in the Senate comes to an end just days after this unspeakable tragedy, our spirits will be crushed, and we will drown in a river of tears. We are begging you, do not let this happen."
David Wellstone, the senator's oldest son, talked of next week's election and "looking forward to digging in" in his father's name. But most of his remarks were devoted to happy memories of his father, mother and sister, learning values rooted in social justice.
An overflow crowd of thousands gathered nearby to watch on giant video screens, and multitudes more watched and listened on statewide TV and radio to the ceremony for Wellstone; his wife Sheila, 58; his daughter Marcia Wellstone Markuson, 33; and campaign staffers Mary McEvoy, 49, Tom Lapic, 49, and Will McLaughlin, 23.
All six were killed in a plane crash Friday in northern Minnesota. The plane's two pilots, Richard Conry, 55, and Michael Guess, 30, also died.
The service was packed with national political figures. Former President Clinton and Sen. Hillary Rodham Clinton's arrival drew a huge cheer from the crowd. They were followed by former Vice President Al Gore, Sen. Tom Daschle, D-S.D., Sen. Ted Kennedy, D-Mass., Sen. Trent Lott, R-Miss., and many others.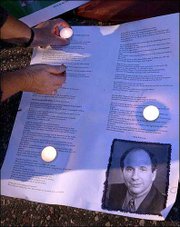 The crowd watched a photo and video collage of Wellstone and the other victims, set to Bob Dylan's "Forever Young."
Before the eulogies, the crowd erupted when Walter Mondale, expected to replace Wellstone on the ballot, walked in with his wife, Joan. Mondale smiled broadly, exchanging handshakes and hugs with Clinton and others.
Secretary of Health and Human Services Tommy Thompson, former governor of neighboring Wisconsin, represented the Bush administration after initial reports had Vice President Dick Cheney attending. The Wellstone family asked Cheney to stay away, in part out of concern that his presence might overshadow the event.
Elizabeth Jacobson, of St. Paul, cried as she waited for the service.
"I think he might have been the greatest politician who ever came from here," she said. "I feel a lot of comfort being here."
Family and close friends attended a private funeral for Paul and Sheila Wellstone at a Minneapolis synagogue on Monday.
Copyright 2018 The Associated Press. All rights reserved. This material may not be published, broadcast, rewritten or redistributed. We strive to uphold our values for every story published.