Orlando, Fla. — Scorer, rebounder, passer. That was the Grant Hill the Orlando Magic thought they were getting two long years ago, and that was who came to play Tuesday night.
Looking nothing like the player last seen limping away on a brittle left ankle, the five-time All-Star had 18 points, seven assists and six rebounds in his first game since last December as the Magic beat the Philadelphia 76ers 95-88 in the first game of the NBA season.
"Physically, I felt good," said Hill, who felt spry enough to bound into the stands to save a rebound early in the third quarter. "Mentally, I was a little rusty. But it was great to get out there, it was good to play."
Tracy McGrady added 31 points and five assists for the Magic, who have won five straight home openers.
"I thought Hill and Tracy, the last eight minutes, played the two-man game off each other as well as you can play," Orlando coach Doc Rivers said. "They're going to keep getting better."
Hill showed no effects from the three ankle surgeries that have held him out of all but 18 games over the past two years, shooting 5-of-10 from the field and 8-of-9 from the line. Occasionally playing point forward, he turned the ball over three times in 33 minutes.
"Sometimes, I was guarding the big guy; sometimes, I was running the offense," Hill said. "That's how we're going to play. We're not going to have numbered positions, we're just going to play and try to take advantage of matchups"
Keith Van Horn had 19 points and 10 rebounds to lead Philadelphia, while Aaron McKie also had 19. Allen Iverson shot 7-of-25, missing his final eight attempts, for 18 points.
"I had great looks at the basket," said Iverson, who had two points in the last 16 minutes. "I missed a lot of wide-open shots that I can hit with my eyes closed."
Orlando center Pat Burke one of 11 undrafted rookies to make opening night NBA rosters led the team's final charge. The 28-year-old from Auburn scored six of his 12 points in the final five minutes as the Magic took an 93-82 lead with 1:58 remaining.
Kings 94, Cavaliers 67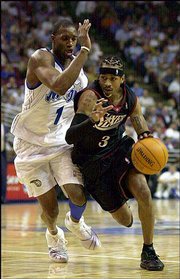 Sacramento, Calif. The Sacramento Kings didn't get too excited about the best defensive performance in Arco Arena history. After all, it was only the first game of the season and the opponent was Cleveland.
Peja Stojakovic scored 17 points and Chris Webber had 14 rebounds as the Kings opened a season of great expectations with a 94-67 victory over the Cavaliers on Tuesday night.
Gerald Wallace scored 15 points and Damon Jones had 18 in his debut for the defending Pacific Division champions, who unveiled the first banner for team success ever hung at Arco Arena.
They spent the next two hours playing dismally on offense and not much better on defense but thanks to Cleveland's 24 turnovers and 32 percent shooting, Sacramento held the Cavs to the lowest score by an opponent since the Kings moved to Northern California in 1985.
"It sure didn't feel like a record," said Webber, who scored just nine points on 4-of-13 shooting. "I'm just glad we got an ugly game out of the way. We wouldn't be ready for the playoffs if they started today. We need the whole 82-game season to find out where we are."
Wearing their new purple road uniforms and playing without their starting backcourt of Doug Christie and Mike Bibby, the Kings had no trouble with the Cavaliers, who got 17 points from Ricky Davis.
The raucous pregame ceremony demonstrated that Arco Arena hasn't lost a decibel of noise since last June, when the Kings lost Game 7 of the Western Conference finals in overtime to the Los Angeles Lakers here.
"(The banner) up there is great, but it's not what we want," Kings owner Joe Maloof told the crowd before the game. "You know what we want."
Christie began a two-game suspension for his preseason fight with Rick Fox of the Lakers; Bibby will be out for about a month while his broken foot heals. Bibby missed just his third game in five NBA seasons, while Christie missed just his third game in three years with Sacramento.
Bobby Jackson, looking a bit overanxious while starting in Bibby's place, had six points and five assists. Jones, a well-traveled veteran signed last week to back up Jackson, hit three 3-pointers in the first half and immediately fit into the Kings' free-flowing offense as they pulled away in the second half.
"In the preseason, I had a lot of open shots that I didn't make," Jones said. "I've been working on my shot extra in practice. I thought it paid off."
The Cavaliers playing without their top two centers, their top rookie and their coach took their first loss in what's certain to be a long season for a team that won 29 games last season and then traded its top three scorers, including NBA assists leader Andre Miller.
Former Cleveland forward Lamond Murray believes the Cavs are tanking the season to improve their chances of drafting Ohio high school phenom LeBron James next fall. Coach John Lucas missed the game because of a two-game suspension for holding offseason workouts with James.
Spurs 87, Lakers 82
Los Angeles Without Shaquille O'Neal and Rick Fox, three-time defending NBA champion Los Angeles simply didn't have enough firepower against San Antonio. Reserve Malik Rose had 16 points and 11 rebounds to lead a balanced Spurs attack to open the season. Tim Duncan had 14 points and 10 rebounds for the Spurs, but shot only 3-of-14. David Robinson, playing his final season, had 13 points and 10 rebounds for the Spurs, but didn't play after picking up his fourth foul with 8:02 left in the third quarter.
Copyright 2017 The Associated Press. All rights reserved. This material may not be published, broadcast, rewritten or redistributed. We strive to uphold our values for every story published.