Miami — More than 200 illegal Haitian immigrants jumped overboard, waded ashore and rushed onto a major highway Tuesday after their 50-foot wooden freighter ran aground off Miami.
There were no known fatalities and no injuries other than dehydration, Detective Delrish Moss said. Miami police counted 206 immigrants, the youngest about 18 months old.
The migrants departed from Port-au-Prince and picked up three Cubans on a raft along the way, said North Miami Mayor Joe Celestin, a Haitian-American who went to the scene and spoke to some of the migrants. Moss said they had been at sea for eight days.
The Coast Guard spotted the vessel about 2 p.m. and followed it for about two hours, said Guard spokesman Luis Diaz. The boat ran aground, and the immigrants began coming ashore near Hobie Beach on Virginia Key, just southeast of Miami's downtown.
"They were all over the front of the boat, the top of the boat, the back of the boat. They were all over it," said windsurfer Ovidio DeLeon, who witnessed the scene. "Then they started jumping."
Some of the Haitians jumped from the deck; others were lowered into the water. They ran into the streets, causing the six-lane Rickenbacker Causeway to be shut down.
Coast Guard personnel were seen pulling people from the water and throwing them life preservers; children were transferred from the boat to people in the water.
Border Patrol agents had begun interviewing the migrants, said spokesman Carlos Roches. "If they claim political asylum, we will process them accordingly," he said.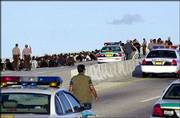 Unlike Cubans who reach dry land, Haitian immigrants usually are denied asylum in the United States and sent back to their homeland, which is in an economic and political crisis.
"It's very sad to see the way human beings who are fleeing their country for a better way of life are treated," Celestin said. "The Cubans that were on the same boat will be released. The Haitians will probably be deported. It's a double standard."
The Bush administration changed its detention policy on Haitian refugees in December to discourage a feared mass exodus from the Caribbean nation. Immigration attorneys sued the government in March, saying the new policy of detention was racially biased.
About 100 protesters marched outside the Immigration and Naturalization Service building in Miami into the night. They chanted in Creole: "No no, we won't go, if you send us away we'll come back. America is for all of us." The demonstrators asked for access to the migrants and requested legal representation for them.
Gov. Jeb Bush said he spoke to White House officials about the migrants' status. "I have been assured that these individuals will receive fair and decent treatment by federal authorities," Bush said.
Copyright 2018 The Associated Press. All rights reserved. This material may not be published, broadcast, rewritten or redistributed. We strive to uphold our values for every story published.