On Sept. 10, 2001, United Airlines pilot Adam Taff flew a Boeing 757 from Washington, D.C., to Los Angeles.
The next day, an American Airlines plane on the same route was commandeered by terrorists and crashed into the Pentagon, killing all 64 on board.
Grounded in Los Angeles for the next five days, Taff said he had a chance to re-evaluate his priorities.
"I realized as much as I enjoyed flying airplanes, taking people from city to city the rest of my life was not going to make the difference that I wanted to make in my life," said Taff, GOP candidate for the 3rd Congressional District.
Taff is plotting a new course for Washington, D.C., if he defeats incumbent Rep. Dennis Moore Nov. 5 at the polls.
Taff said an Oct. 14 campaign poll indicated he was ahead of Moore by 8 points (44 percent of voters supporting Taff; 36 percent supporting Moore, with 20 percent still undecided).
But Democratic candidate Moore said his polls show a double-digit difference in his favor, although he wouldn't disclose details.
Important to GOP
A Republican victory in the district is crucial to the Bush administration as it pushes to retain control in the U.S. House of Representatives. Republican heavy hitters, including Vice President Dick Cheney and former U.S. Sen. Bob Dole, have turned out to support Taff, a political neophyte.
Cheney touted Taff's military experience last month at a $250-a-plate luncheon in Overland Park.
"He'll be vital in helping us meet the key priorities for the nation in terms of winning the war on terror, strengthening the economy and defending our homeland," the vice president said.
A Kansas native, Taff attended Benedictine College in Atchison, where he played football and baseball. He attended Kansas University law school for a year but dropped out to join the Navy. Taff, who is single, lives in Lake Quivira.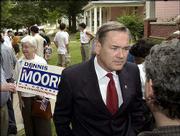 He said he served 11 years as a naval aviator flying missions over Iraq, Bosnia and Somalia. The 37-year-old Taff said his experience as a military pilot would be useful in Congress.
The incumbent
Moore downplays his opponent's military experience and focuses on his own congressional and local government experience. He made his first run for public office in 1976 for Johnson County district attorney, a post he kept 12 years.
Moore also was in the military. He was discharged from the Army as a captain, after serving toward the end of the Vietnam War.
"If you want somebody who can fly a plane, then I can tell you who to vote for," Moore said. "What we need are people who can look at a problem and help try to solve that problem. I have more practical experience in this area than my opponent does."
Gearing up for his third congressional campaign, Moore said he hadn't made big changes in his campaign strategy despite facing a moderate Republican for the first time.
The Lenexa resident defeated incumbent Rep. Vince Snowbarger in 1998, and beat current GOP Kansas attorney general candidate Phill Kline in 2000. Both Snowbarger and Kline were considered conservatives. In both races, Moore was able to win support from moderate Republicans, earning him the distinction of being one of few Democrats in the nation to represent a predominantly GOP district.
Moore, 56, said he's a bipartisan independent who votes his conscience, not the party line.
"I vote for good ideas," he said.
Taff has challenged that assertion during the campaign.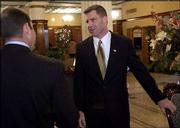 During a recent debate he told Moore, "96 percent of the time when the vote is close, you're voting with (House Democratic Leader) Dick Gephardt. I would say that's pretty Democratic."
War on Iraq
Differences aside, both candidates said they agreed with the passage earlier this month of the congressional resolution sought by President Bush allowing the administration to use force against Iraq. And both say they'd prefer a diplomatic solution rather than war.
"I think a lot of people have jumped to the conclusion that simply because we've signed this resolution means people want to go to war; I don't hear that," Moore said.
But when it comes to pumping more money into the military, the candidates have different views.
Taff said the armed forces are well prepared for conflict, but he worries about future readiness. Military funding has decreased consistently for the past 13 years, he said. It's a shortfall that won't be made up quickly.
"The equipment and facilities that they're using are not in good condition, so that might speak to our ability to sustain an operation, or to do two operations at once," Taff said, "We are asking a lot of our military right now, without the expertise in Washington to make those decisions."
Tax cuts
Adam TaffAge: 37Party: RepublicanHometown: Lake QuiviraFamily: SingleEducation: Benedictine College.Occupation: United Airlines pilot, U.S. Navy Reserve, F/A-18 instructor/pilotGovernment experience: NoneDennis MooreAge: 56Party: DemocraticHometown: LenexaFamily: Wife, Stephene; 7 childrenEducation: Kansas University, Washburn University.Government experience: U.S. House Representative 3rd District, Kansas, 1999-present; Johnson County district attorney, 1977-1989; Johnson County Community College board of trustees, 1993-1998.
Moore, also a lifelong Kansan, received his degree in political science from Kansas University in 1967. He obtained his law degree from Washburn University in Topeka.
Moore said he wanted to limit federal spending and wait to cut taxes, which is why he voted against making permanent Bush's tax cut plan. Fiscal responsibility will get the country through tough economic times, he said.
"We need to acknowledge reality; we shouldn't be enacting huge new tax cuts or spending progressively when we're facing a deficit," Moore said.
Taff said the better way to increase federal revenue was to build the economy. He said permanent tax cuts would provide incentives to businesses wanting to expand.
Both candidates draw on personal experiences when taking positions on health issues.
Taff lost his mother to cancer. Moore had to wade through insurance red tape before his wife, Stephene, could undergo needed surgery.
Having watched his mother deal with more than 30 bottles of medication and stacks of bills, Taff supported a recent $350 billion bipartisan drug benefit plan that would allow insurance companies to design benefits and provide relief to seniors.
"We had a real opportunity that would have provided real benefit to seniors right now," Taff said of the failed legislation.
Moore voted against the bill, saying he didn't agree with providing subsidies to insurance companies. He said he'd rather see a drug-benefit bill that operates through Medicare, a program he said seniors already know and trust.
Moore, the lone Democrat in the Kansas congressional delegation, said there were more than 43 million Americans without health insurance and that he supported helping doctors and patients not insurance companies decide health issues.
Social Security
Taff and Moore agree something must be done to assure Social Security remains solid. But they disagree about what should be done. It's estimated that in 15 years the federal government will be paying out more in benefits than it receives in contributions.
While the Social Security system has a surplus, Taff said younger workers pouring money into the system should be allowed to put a portion of their contributions in other secure investments such as U.S. Treasury bonds.
Transitional costs, if Social Security is partially privatized, will cost nearly $1 trillion, Moore said. The U.S government can't afford that.
And if money is taken from the system now, he said he wonders how that will affect the widowed, disabled and elderly already receiving Social Security benefits.
Taff criticizes Moore for suggesting that privatizing elements of Social Security would take money from those receiving benefits.
"Many people seem to want to engage in a dialogue to scare our seniors," Taff said, "Every person will get every dime of their Social Security. But isn't it prudent to look at the surplus and see if there is a way to extend the program? Because if we don't, it will go bankrupt at this current level."
Copyright 2018 The Lawrence Journal-World. All rights reserved. This material may not be published, broadcast, rewritten or redistributed. We strive to uphold our values for every story published.