The Lawrence Chamber of Commerce is preparing to search for a new president, as its current boss prepares to leave for a similar post in Michigan.
Bill Sepic, president and chief executive officer of the 1,300-member organization since February 2000, is expected to be introduced Wednesday as the new president for the Lansing Regional Chamber of Commerce in Lansing, Mich., the state capital. The three-county area represented by the chamber is also home to Michigan State University.
Contacted Monday afternoon, Sepic said he had not accepted the job nor had he interviewed for it. But Larry McElwain, the Lawrence chamber's chair-elect, said that he expected to hear the news from Sepic himself this morning.
The Lawrence chamber's board meets Wednesday morning.
"It's going to cause some transition issues for us, but I wish him well," said McElwain, who said that Sepic interviewed for the job last week. "Lansing is in a beautiful part of the country. It's a college town, not unlike Lawrence. It's a great opportunity for him."
Tom Chirgwin, chairman of the Lansing chamber, was unavailable for comment. Mike Froh, the organization's membership development director, acknowledged that an announcement about the job was forthcoming but declined further comment.
Sepic came to Lawrence at the age of 36 from the Rochester Area Chamber of Commerce in Rochester, Minn., a city of 80,000 that is home to the Mayo Clinic and major operations for IBM. At the time, Sepic said he was drawn to the "total package" of Lawrence, including its high quality of life, strong chamber and potential for growing business.
In June, Sepic hired Lynn Parman to head the chamber's economic-development efforts, which had lagged since a failed push to bring an American Eagle Outfitters warehouse and distribution center to the East Hills Business Park.
McElwain described Parman's hiring as among Sepic's accomplishments and indicative of a "new direction" the chamber is charting to bring more jobs to town, despite a sluggish national economy.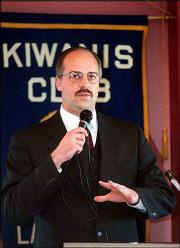 Sources said that Jean Milstead, a retired executive at Douglas County Bank, was expected to be named interim president. A national search will be conducted before hiring Sepic's replacement, McElwain said.
The new president likely will earn $75,000 to $95,000 annually, he said, and be called upon to maintain momentum for a four-year, $1.4 million drive to collect private funds to boost economic-development efforts in the county.
The Lawrence chamber includes the Lawrence Convention and Visitors Bureau and carries job-creation and business-expansion responsibilities for Lawrence and Douglas County.
"We want someone with leadership abilities and vision for what we can be and how we can get there," McElwain said. "I want to be out on the forefront of securing gobs of employers for Lawrence. We still have some great opportunities with the bio-lab situation. We have a great interest being shown by the (Kansas) University to create opportunities for professors to market their research and market their work. We'll need somebody to step into that role and make sure that Lawrence does what it can to provide good, solid jobs."
Added Gene Meyer, a member of the chamber's executive committee: "I think Bill did a good job. I hope it works well for him."
Copyright 2018 The Lawrence Journal-World. All rights reserved. This material may not be published, broadcast, rewritten or redistributed. We strive to uphold our values for every story published.