Anaheim, Calif. — All Barry Bonds could do was watch the celebration from a dark corner in the losers' dugout.
No more glorious home runs.
No more trots around the bases.
No ring.
That's what will be ringing in his ears all winter long, maybe for the rest of his career, maybe for the rest of his life.
"I went 1-for-3 with a walk. That's a good day," he said Sunday night after San Francisco's 4-1 Game 7 loss to Anaheim. "Am I supposed to go 3-for-3 with three home runs? What do you want from me?"
Even in defeat, Bonds was the story of the Series. Walk him? Pitch to him?
Anaheim couldn't figure it out at times, but in the end, it was the Angels who set off fireworks, not Bonds.
He was close to invisible Sunday night. When he was noticed, it was for outfield play that came up short.
Bonds had a World Series matched perhaps by only Ruth, Lou Gehrig, Reggie Jackson and Gene Tenace. But he failed to come through at key points, when he had the chance to grab the ring he's talked about since he was a rookie. He double-clutched instead of coming up clutch.
He bobbled two balls in left field in the eighth inning of Game 6, making an error that helped Anaheim score the go-ahead run. And in the Angels' key three-run third inning Sunday, he let David Eckstein's soft liner drop for a single, batting the ball down with his bare hand instead of trying for a diving catch.
"It's not going to haunt us," Bonds said. "We'll go to spring training and start again."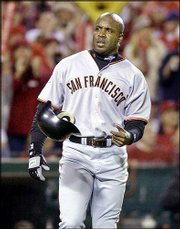 He came into October with a postseason history more befitting a scrub than a star, with one homer, six RBIs and a .196 average in 97 at-bats.
But that choker tag remains. He swatted 1,800 feet of home runs against the Angels, hit a record eight homers in the postseason, but still couldn't belt the loser image away.
"The guy to me, Bonds, has been the most dominant from what I've seen in 35 years of watching major league baseball," said Jackson who did go 3-for-3 with three homers in the Yankees' 1977 clincher. "I haven't seen anybody do what Bonds has done the last two years."
But Jackson was wearing his ring and Bonds still doesn't have one. At 38, Bonds may never get to the Series again.
Since he came to the majors in 1986, Bonds has been a hero to some, an antihero to others.
"Barry was happy as heck after it was decided we'd come to the World Series," Giants manager Dusty Baker said. "A lot of people said he seemed very stoic and distant. But who knows what's going on on the inside of Barry? Yeah, I believe he's having fun. Hard not to have fun when you're hitting balls halfway to the moon."
There was no way to overlook him in this Series. And Anaheim certainly tried to bypass him.
He was pitched to just once with a runner in scoring position. He walked 13 times, two more than the previous Series record shared by Ruth and Tenace. Seven of those were intentional, another mark.
But the Giants made Anaheim pay for the walks. He scored on three of them. Of the 112 pitches he saw in the Series, only 39 were strikes. He swung just 25 times.
When he did connect with his 34-inch black maple bat, the ball went a long way. He was batted .471 (8-for-17), with four homers and two doubles.
His 1.294 slugging percentage broke Tenace's 1972 record of .913 for a seven-game Series. and was third for the overall mark behind Gehrig (1.727) and Ruth (1.375) in the Yankees' four-game sweep of 1928.
Copyright 2018 The Associated Press. All rights reserved. This material may not be published, broadcast, rewritten or redistributed. We strive to uphold our values for every story published.