New Orleans — Michael Vick felt sick on Atlanta's final possession of the game. That didn't stop him from leading the Falcons to their third straight victory.
Vick drove the Falcons down the field in the closing minutes, setting up Jay Feely's winning field goal. Feely kicked a 47-yarder as time expired, giving the Falcons a 37-35 win over the New Orleans Saints on Sunday.
"He's elusive and he's a heck of a football player," Saints coach Jim Haslett said. "He sure is a talent."
After Deuce McAllister ran 16 yards for a score, putting the Saints up 35-34 with 2:20 left, Vick took control. Feely, who missed a 45-yard attempt with 56 seconds left in Atlanta's loss to Chicago, sent this one through the uprights as time ran out.
Vick took himself out of the game after the Falcons reached the Saints' 29. He said a Saints player hit his left thumb earlier in the quarter and it was swelling. His left shoulder also was bothering him, and he felt nauseous.
"I took myself out because I didn't want to vomit on the field," Vick said. "It's nothing."
Vick, the second-ranked passer in the NFC, completed 16 of 24 passes for 195 yards. He rushed for 91 yards and two touchdowns, including a 32-yard score in the fourth quarter and was sacked three times.
"I'm calm under pressure," Vick said. "I love these situations."
Warrick Dunn, who entered the game with 160 yards rushing on the season, gained 142 yards against New Orleans and scored a touchdown. Atlanta outrushed the Saints 260-159.
"It was good to get into the flow," Dunn said. "It was just a matter of getting the opportunity to play big."
Atlanta harried Vick's cousin, Aaron Brooks, all game. Brooks completed just 16 of 35 passes for 192 yards. He threw two touchdowns and two interceptions.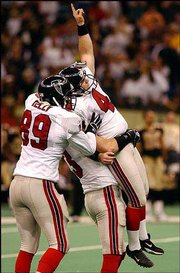 "On film we saw Brooks was most successful when dropping back, so he has time to read the defense," Falcons cornerback Ray Buchanan said. "We played man-to-man and rushed guys in his face."
McAllister had 115 yards on 17 carries and scored two touchdowns.
"It leaves you with a sour taste in your mouth," McAllister said.
The Falcons converted 7 of their 11 third downs (64 percent), while New Orleans converted only 2-of-8 (25 percent).
Brooks and Vick, who grew up in Newport News, Va., had never faced each other on the field before.
"I told him there's going to be lots more of these, man," Vick said. "It was fun playing against him. He brings out the best in me, and I bring out the best in him."
Buccaneers 12, Panthers 9
Charlotte, N.C. Martin Gramatica kicked three field goals in the fourth quarter including a 47-yarder with 5 seconds to play helping Tampa Bay win the battle between two of the NFL's best defenses.
Gramatica also made field goals of 52 and 53 yards in the fourth quarter, the second one with 1:55 to play that tied the game at 9. That kick was set up when Carolina's Steve Smith fumbled away a punt.
Bills 24, Lions 17
Orchard Park, N.Y. The Buffalo Bills allowed Detroit to drive to their 20 before linebacker London Fletcher tackled James Stewart behind the line of scrimmage on fourth-and-inches with 1:52 left.
Drew Bledsoe then completed a first-down pass to Eric Moulds, allowing the Bills to run out the clock.
Browns 24, Jets 21
East Rutherford, N.J. Four days after the death of team owner Al Lerner, the Browns rallied from an 18-point deficit. Phil Dawson completed the comeback by kicking a 35-yard field goal with 3:30 left.
The score capped another long second-half drive directed by Tim Couch, who finished 33-for-49 for 307 yards.
Vikings 25, Bears 7
Minneapolis Playing patient offense and surprisingly tough defense, the Vikings handed the Bears their fifth straight loss.
Daunte Culpepper was 22-of-29 for 216 yards passing, with a touchdown and no interceptions. His fumble was the Vikings' only turnover.
Randy Moss had nine receptions for 119 yards and Michael Bennett ran 29 times for 106 yards.
Steelers 31, Ravens 18
Baltimore Tommy Maddox completed his first 11 passes, and the Steelers scored touchdowns on their first four possessions.
Maddox left with a sprained left ankle midway through the third quarter but returned with 11 minutes remaining and finished 18-for-24 for 172 yards and two TDs. He's 3-1 as the starter since replacing Kordell Stewart.
Titans 30, Bengals 24
Cincinnati Corey Dillon tripped over his blocker and was tackled inches from the goal line with 1:08 to play, preserving the Titans' victory over the Cincinnati Bengals.
Steve McNair threw three second-half touchdown passes, and the Titans needed one last Bengal blunder to hold on against the NFL's only winless team.
Broncos 24, Patriots 16
Foxboro, Mass. Clinton Portis and Shannon Sharpe showed that the New England Patriots needed more than a week off to solve their problems.
Denver moved a half-game behind idle San Diego in the AFC West as Portis, the NFL's top rookie rusher, ran for 111 yards and two touchdowns and Sharpe caught an 8-yard scoring pass.
New England lost its fourth straight. The Patriots haven't led at halftime in their last five games, and they fell behind 21-7 despite creating two turnovers.
Brian Griese threw a touchdown pass for the 23rd consecutive game, the longest current streak in the NFL.
49ers 38, Cardinals 28
San Francisco Jeff Garcia passed for 252 yards and threw two of his four touchdown passes to Terrell Owens as the 49ers jumped to a big early lead
Arizona and San Francisco were tied for first place in the NFC West, but the more experienced 49ers scored 24 points before the second quarter was a minute old.
Owens had eight catches for 132 yards, and his TDs covered 21 and 61 yards.
The Cardinals rallied in the second half, but Ronnie Heard's third interception of the day he had none before Sunday with 5:26 left cut short the comeback.
Texans 21, Jaguars 19
Jacksonville, Fla. Defenders Gary Walker and Seth Payne let go by Jacksonville to the expansion Texans came back to hurt their old team as Houston won on the road for the first time.
Kris Brown's field goal with 2:11 left was the game-winner, but a trick play set it up. Punt returner Jabar Gaffney threw a lateral to Aaron Glenn, who ran 42 yards to set up the field goal for Houston.
The Jags have lost three in a row, and coach Tom Coughlin said someone spit on him afterward.
Redskins 26, Colts 21
Landover, Md. With an attack bearing little resemblance to Spurrier's Fun 'n' Gun, the Redskins dominated the Indianapolis Colts' defense with a patient offense that moved the sticks and controlled the clock.
Shane Matthews, unhappy that he was benched three weeks ago, justified his gripe by returning and leading a methodical, almost error-free game.
The Redskins broke a two-game losing streak. The Colts, who have not been impressive this season despite their winning record, have struggled in consecutive prime-time games, losing to Pittsburgh, 28-10, last Monday.
Copyright 2018 The Associated Press. All rights reserved. This material may not be published, broadcast, rewritten or redistributed. We strive to uphold our values for every story published.